Exclusive Clip From 'The Dead Lands,' A James Cameron And Peter Jackson-Approved Action Film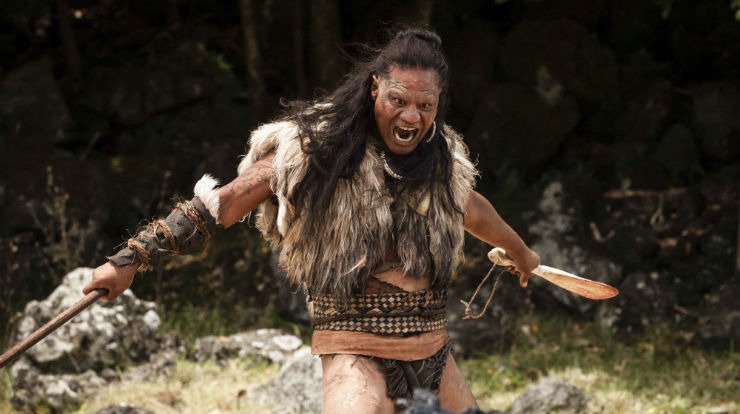 Both James Cameron and Peter Jackson love The Dead Lands. That's a pretty amazing endorsement. Written by Glenn Standring and directed by Toa Fraser, the raw action movie is about a young warrior who must avenge his father's death by traveling across the treacherous dead lands to forge an alliance with an stranger.
This small, New Zealand-based action film is currently in select theaters and on VOD. In the hopes you might check it out, the studio has provided /Film with an exclusive clip of one of the film's action sequences. It features some dynamic camera moves and violence to illustrate why Cameron and Jackson love the movie so much.
Below, watch the exclusive Dead Lands clip, check out the trailer and read the specific quotes from James Cameron and Peter Jackson.
First up, here's our exclusive clip from The Dead Lands:
The main warrior in that clip, and in the image above, is Lawrence Makoare. He played Lurtz in The Lord of the Rings: The Fellowship of the Ring and The Witch King in The Lord of the Rings: The Return of the King. Jackson had him back in The Hobbit to play Bolg, but then they went all-CG for the character.
Here's the trailer:
And finally, here's what Peter Jackson and James Cameron said about the film:
"A powerful and gripping tale of revenge set against a dark and haunted landscape of pre colonial New Zealand. The action is breathtaking, the performances compelling. This one of the best films to come out of New Zealand in a long time. Don't miss it!"  - Peter Jackson"A powerful and primal coming of age story that's an absolute adrenaline rush, The Dead Lands is far more than just a great action movie  –  it's great cinema."  - James Cameron
Here's the official description of the film. Click here for more:
Hongi (James Rolleston) – a Maori chieftain's teenage son – must avenge his father's murder in order to bring peace and honour to the souls of his loved ones after his tribe is slaughtered through an act of treachery. Vastly outnumbered by a band of villains, led by Wirepa (Te Kohe Tuhaka), Hongi's only hope is to pass through the feared and forbidden Dead Lands and forge an uneasy alliance with the mysterious Warrior (Lawrence Makoare), a ruthless fighter who has ruled the area for years.