Riz Ahmed In Talks For 'Star Wars: Rogue One,' Sam Claflin Also Eyed [Updated]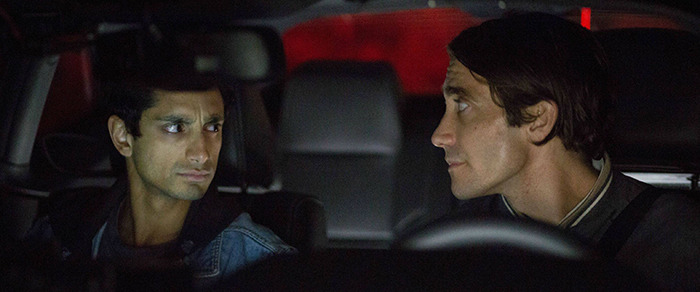 The first Star Wars Anthology film, Rogue One, to be directed by Gareth Edwards, is sounding like an anomaly in the Star Wars lineup. The movie has been positioned explicitly as a war film, and the teaser trailer shown at Star Wars Celebration featured a vibe that is more serious, even adult, than any other Star Wars project to date. And there's the cast, which is so far led by Felicity Jones, who we know plays a Rebel fighter.
Now Riz Ahmed (above, with Jake Gyllenhaal in Nightcrawler) is reported to be in the Rogue One cast as well. Additionally, Sam Claflin is reportedly circling a role.
Badass Digest reports that Ahmed is in talks for Rogue One, and that he is just one of a great many actors we'll probably hear about soon. The site throws out the Dirty Dozen and Magnificent Seven comparison that we've heard before, which means this film could have an extensive lead cast. There's also the mention that some of them won't survive to the end of the film — in keeping with the more serious "war movie" vibe.Ben Mendelsohn is reported to be one of the additional actors who will appear, but we still have no confirmation of his casting. Since Rogue One will begin shooting this summer, it probably won't be long before we get a full cast announcement.Update: The Wrap reports that Sam Claflin "is the frontrunner for one of the ensemble roles," and also says Mendelsohn is locked.
Gareth Edwards said this is the first Star Wars film that won't focus on Jedi, explaining, "It comes down to a group of individuals who don't have magical powers that have to somehow bring hope to the galaxy."
Lucasfilm released this synopsis for the movie, which opens on December 16, 2016.
A rogue band of resistance fighters unite for a daring mission to steal the Death Star plans and bring new hope to the galaxy in the Star Wars Anthology film, Rogue One.