Common Boards 'Suicide Squad' In Mystery Role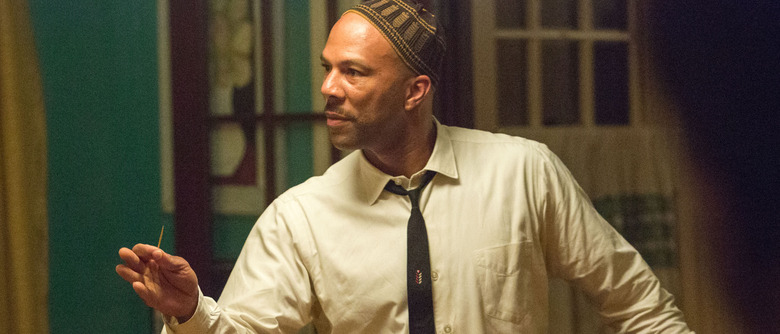 Common is finally getting his chance to join the DC Universe. The Oscar-winning musician/actor has just boarded Suicide Squad, David Ayer's star-studded supervillain team-up for Warner Bros. Read about the Common Suicide Squad casting after the jump. THR reports Common has closed his deal for Suicide Squad. His role is being kept under wraps for now.Suicide Squad centers around a group of supervillains who strike a deal with the government. They'll carry out highly dangerous black-ops missions for Uncle Sam, and in exchange they'll have their prison sentences reduced or eliminated.
The main cast is Jared Leto as the Joker, Will Smith as Deadshot, Margot Robbie as Harley Quinn, Joel Kinnaman as Rick Flagg, Cara Delevingne as Enchantress, and Jai Courtney as Captain Boomerang. Viola Davis is Amanda Waller, sort of the Nick Fury of the team.
Also starring are Adewale Akinnuoye-Agbaje, Jim Parrack, Jay Hernandez, Karen Fukuhara, Adam Beach, Scott Eastwood, and Ike Barinholtz. In addition, Jesse Eisenberg and Ben Affleck are rumored to cameo as Lex Luthor and Batman respectively.
Common had a brush with the DC Universe once before. Around 2007 or 2008, he was cast as Green Lantern John Stewart in a Justice League movie. But the project fell apart thanks to the WGA strike, and Common never got his chance to slip on that iconic ring.
He recently stated that he'd still "love" to play John Stewart someday. It seems unlikely, though not impossible, that he'll play that part in this movie, since the Green Lantern solo film isn't even coming out until 2020.
Common is coming off of the Liam Neeson thriller Run All Night. Prior to that he was involved with Selma, co-starring as James Bevel and writing and performing the Oscar-winning theme song "Glory." Next up for him is Hunter Killer, with director Martin Campbell and star Gerard Butler.
Suicide Squad is in production now in Toronto, for release August 5, 2016.