Marvel Clips: Paul Rudd Steals 'Ant-Man' Suit, Vision Arrives In 'Age Of Ultron'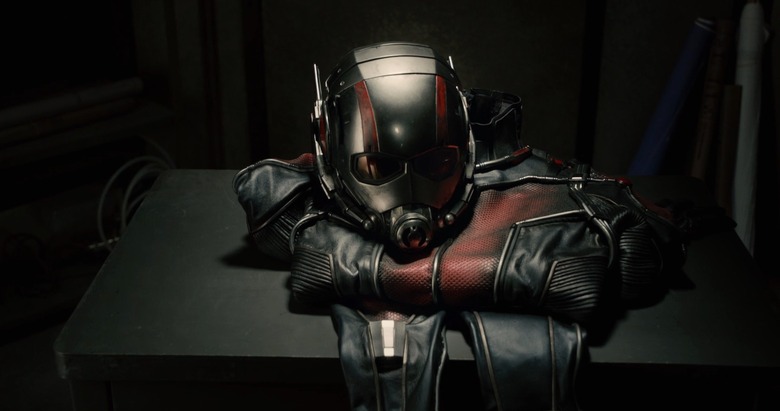 Two new clips have arrived for Marvel's summer movies, and each one has a revelation of sorts. One, from Avengers: Age of Ultron, shows the arrival of Vision, the new character played by Paul Bettany. As a bonus, it has narration of sorts from the actor, as he presented the clip during a TV interview appearance. The other, from Ant-Man, shows Scott Lang (Paul Rudd) breaking into a safe that contains a surprising set of objects.
Check out the Ant-Man clip and Age of Ultron footage below. 
Ant-Man first, via CBR, thanks to the clip airing on Late Night With David Letterman. What we have here seems to be a scene from early in the film, in which Paul Rudd's character Scott Lang works with a small team to break into a safe. We see some of his capable work as a thief, and also his first reaction to some of the technology that will make the rest of the plot possible.
Note also that this footage gives us a clue to Michael Pena's role, as he's clearly working with Rudd on the break-in.
We'll learn more about what's going on before and after that clip when Ant-Man opens on July 17.
Armed with the astonishing ability to shrink in scale but increase in strength, con-man Scott Lang must embrace his inner-hero and help his mentor, Dr. Hank Pym, protect the secret behind his spectacular Ant-Man suit from a new generation of towering threats. Against seemingly insurmountable obstacles, Pym and Lang must plan and pull off a heist that will save the world.
***
Then there's a big clip from Avengers: Age of Ultron. This clip comes a while after the film's opening scenes, so it should be considered potentially spoilerish. If you don't want to know anything that happens after the first ten minutes or so, use caution. But it aired on TV, so we'll call it fair game.
The reason that clip is broken up a bit is that it was culled from Bettany's premiere on The One Show. Here's his full appearance, in which he discusses the character, among other things.
Avengers: Age of Ultron opens tonight in some territories, and will be in theaters in the US on May 1.
Marvel Studios presents Avengers: Age of Ultron, the epic follow-up to the biggest Super Hero movie of all time. When Tony Stark tries to jumpstart a dormant peacekeeping program, things go awry and Earth's Mightiest Heroes, including Iron Man, Captain America, Thor, The Incredible Hulk, Black Widow and Hawkeye, are put to the ultimate test as the fate of the planet hangs in the balance. As the villainous Ultron emerges, it is up to the Avengers to stop him from enacting his terrible plans, and soon uneasy alliances and unexpected action pave the way for an epic and unique global adventure.