Star Wars Bits: John Boyega, Celebration 2016, J.J. Abrams, Rogue One, Marvel Comics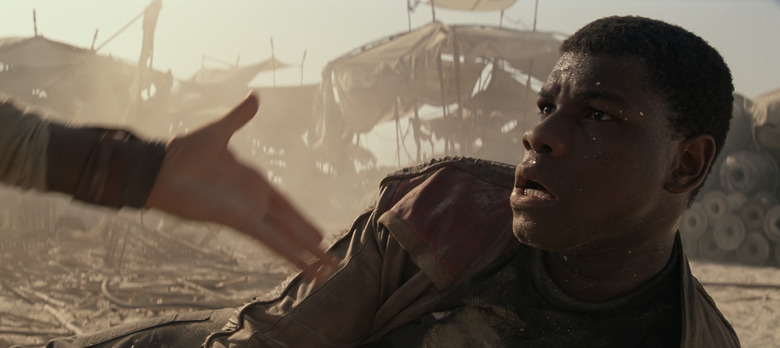 We've got more Star Wars Celebration round-up items, as well as some cool Force Awakens info, in this edition of Star Wars Bits. Below, read the following:
Force Awakens star John Boyega is back on Twitter, and walked around Celebration in disguise.
Disney is recreating the Millennium Falcon cockpit on their cruise ship.
George Lucas says Star Wars: The Force Awakens is a "different" kind of story.
Marvel announced two new Star Wars comic books.
A new Del Ray book has been revealed: Star Wars Battlefront: Twilight Company.
Author Alan Dean Foster will write The Force Awakens novelization.
Watch a Lego version of the Star Wars Anthology: Rogue One trailer.
Listen to Peter on a podcast about Star Wars Celebration.
See where the X-Wing sequences in the Force Awakens trailer were filmed.
Ben Mendelsohn tiptoes around his potential Rogue One casting.
Want to see a Gonk Droid in Star Wars: The Force Awakens?
J.J. Abrams takes the Twizzler Challenge.
Star Wars Celebration 2016 will be in London from July 15-17, 2016.
After a disappearance last year, Force Awakens star John Boyega is back on Twitter and Instagram. There he revealed that he and co-star Daisy Ridley (still not back on Twitter, we don't think) walked around Star Wars Celebration with masks on. Here are a few photos, and see more at those links (also thanks to Peter-Angie Mayhew).
Earlier this year, we wrote about Star Wars coming to the Disney Cruise Lines. In a new blog post, it was also revealed they are recreating the interior of the Millennium Falcon as part of the Disney's Oceaneer Club, which is a kids play area. Here's an image. Read more here.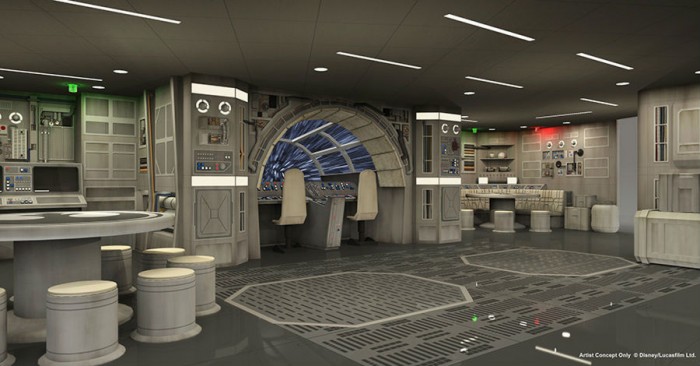 Last week, George Lucas spoke with Stephen Colbert at the Tribeca Film Festival and, of course, the conversation turned to Star Wars: The Force Awakens. Here's Lucas' quote via Yahoo:
The one thing I regretted about doing Star Wars is I never got to see it. I'd seen [the footage in the editing room] a hundred times, so I never got to have that thrill. This time, it'll be very different because they're doing a kind of a different story. I don't know anything about it.
During a Marvel Comics panel at Star Wars Celebration, the company revealed two new comics are coming. One, centered on Lando, will be set between Episodes IV and V, and feature Lobot. It's out in July. The second is called Star Wars Journey to The Force Awakens: Shattered Empire, which will be out later this year. Read more on the official site.
A brand new Star Wars novel has been announced. It's called Star Wars Battlefront: Twilight Company, and it ties in with the EA video game. That will be out November 3. Read more here.
At the same panel, Del Ray revealed that sci-fi author Alan Dean Foster will be writing the novelization of Star Wars: The Force Awakens. It'll be out via eBook on December 18, and then in hardcover in January. Thanks to Bleeding Cool.
FinalFeature quickly created this Lego version of the teaser of Star Wars Anthology: Rogue One:
Rogue One was first written by Gary Whitta, who posted the poem seen below when the news of the plot was officially announced:
Rebels stole the Death Star plans
That we all remember
But to see how that job all went down
You must wait til next December

— Gary Whitta (@garywhitta) April 20, 2015
/Film leader Peter Sciretta did the Crazy 4 Comic-Con podcast during Star Wars Celebration to talk about the convention. Listen here.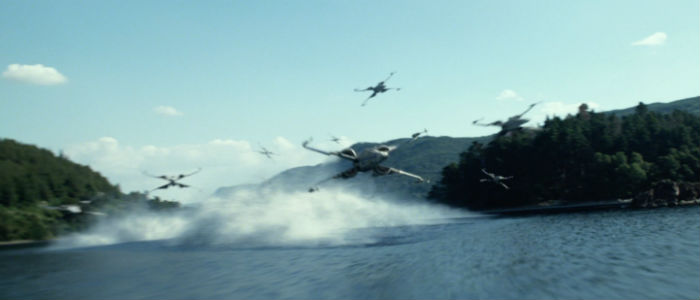 Newspaper CumbraLive.co.uk (via SW7News) reports the X-Wing scenes in the Star Wars: The Force Awakens trailer were all filmed in England's Lake District in July 2014. None of the stars were there, because the scenes shot were all effects shots.
MTV talked to Ben Mendelsohn about Slow West and asked him about potentially being cast in Rogue One. As great an actor as he is, his poker face isn't as good.
TheForce.net reporter Eric Geller noticed, in the below image of Poe Dameron (Oscar Isaac) revealed at Star Wars Celebration, the actor's favorite Star Wars character makes a cameo: The Gonk Droid.
Everybody is fawning over Oscar Isaac in his pilot's uniform, but look who's in the background? A GONK DROID. pic.twitter.com/D1Gnm0mZtD

— Eric Geller (@ericgeller) April 21, 2015


The Interobang points out this hilarious video shot at Celebration of a man (possibly comedian Josh Robert Thompson) dressed as George Lucas trolling the fans:
More Star Wars comedy: J.J. Abrams appeared on Jimmy Kimmel and accepted the Twizzler Challenge at Star Wars Celebration. Here's the clip:
Finally, did you get excited about all our coverage of Star Wars Celebration? Well the dates and location for the 2016 version (sure to be filled with Force Awakens merchandise and Rogue One teases) takes place from July 15-17 in London. Get more info and tickets here.