W. Earl Brown Cast As Hugo Root In 'Preacher'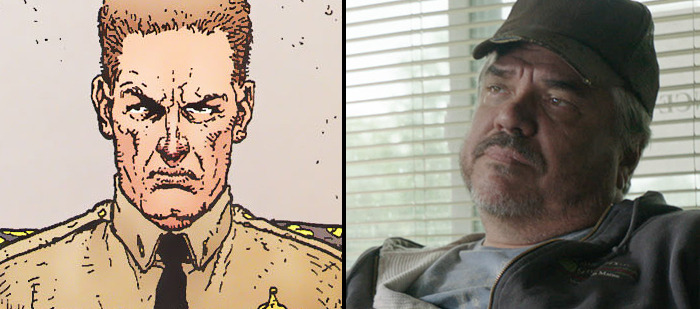 The cast for Preacher, the TV adaptation of Garth Ennis' and Steve Dillon's comic series developed and directed by Seth Rogen and Evan Goldberg, continues to grow.
Hot on the heels of confirmation that Dominic Cooper will play the title character comes this fun addition: W. Earl Brown, perhaps best known as Al Swearengen's right-hand man Dan Dority on Deadwood and soon to be seen in True Detective season 2, has signed on to play Sheriff Hugo Root. He's the mean-eyed father of Eugene Root, better known as Arseface. What we know about Preacher's Sheriff Root is below.
Deadline has the news.
We know that Preacher, the TV series, will be a bit different from Preacher the comic book.
Dominic Cooper plays Jesse Custer, "a conflicted preacher in a small Texas town who merges with a creature that has escaped from heaven and develops the ability to make anyone do anything he says." That's more or less like the comic, except that the series seems like it features more of Custer's town than the comic did. With his ex-girlfriend Tulip (Ruth Negga) and the Irish vampire Cassidy (Joseph Gilgun), Custer embarks on a journey to literally find God.
Somewhat different from the comic, it seems that the show is setting up Custer's town of Annville as a location that will be important throughout the series. Some of the backstory that eventually filtered through the comic's main tale could be presented in different form here, and give secondary characters a more consistent place in the story.
So what about Brown's character, Sheriff Hugo Root?
He's called "the mean-hearted father of Eugene Root aka Arseface (Ian Colletti)," which is consistent with the comic. Unlike the comic, here it seems like Eugene may start out the series already disfigured thanks to a moment of real personal weakness. Sheriff Root is called "a flinty-eyed, conspiracy-credulous redneck who is not a fool and has a vulnerability to him." Brown will be able to keep Root's tough nature front and center without sacrificing that vulnerability, which should be fun to watch.