'Galaxy Quest' TV Show In The Works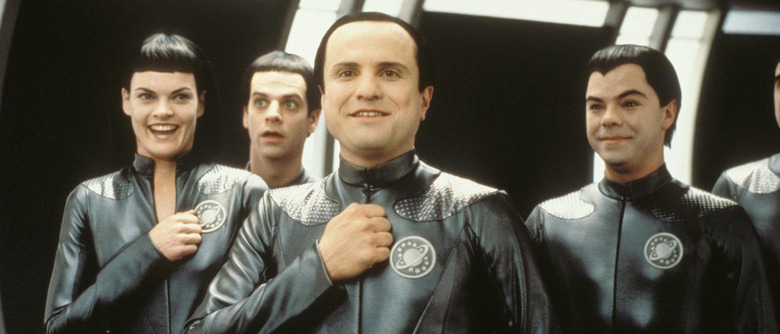 The NSEA Protector will fly again. Paramount Television is making plans for a Galaxy Quest TV show, based on the 1999 sci-fi comedy about a group of actors on a Star Trek-esque series who are whisked away on a real space adventure. Get all the details on the Galaxy Quest TV show after the jump. 
The Galaxy Quest TV series doesn't yet have a network, but Variety reports Paramount TV is shopping it around town. Several key figures from the original are in negotiations to return, including co-writer (with David Howard) Robert Gordon, director Dean Parisot, and executive producer Mark Johnson. All three are expected to executive produce with Melissa Bernstein (Breaking Bad).
The 1999 film starred Tim Allen, Sigourney Weaver, Alan Rickman, Tony Shalhoub, Daryl Mitchell, and Sam Rockwell as the former stars of a once-popular sci-fi show called Galaxy Quest. After a race of aliens (played by Enrico Colantoni, Missy Pyle, Rainn Wilson, and others) mistakes episodes of the show as historical documents, they recruit the actors to help save their kind. As of now, none of the movie actors are confirmed to return for the show.
There's some irony in Galaxy Quest being turned into a TV show while Star Trek, which helped inspire it, is still struggling to launch a small-screen reboot. But given that Star Trek fans voted Galaxy Quest the seventh best Star Trek movie of all time – ahead of several actual Star Trek movies – maybe a Galaxy Quest TV show will tide them over until CBS can get its act together.
Galaxy Quest was well received upon its 1999 debut and in the years since has achieved cult status. Which means, of course, that it's been dogged by sequel rumors. Much of the cast and crew have expressed interest in returning (though that was when the purely theoretical Galaxy Quest 2 was assumed to be a movie, not a show), and IDW even released a Galaxy Quest comic book series earlier this year.