'Beauty And The Beast' Adds Ewan McGregor As Lumière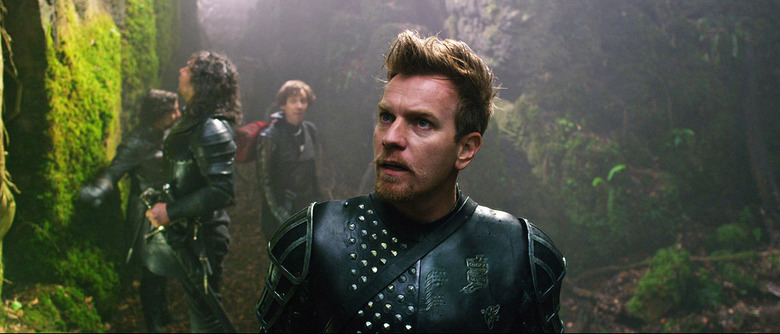 Bill Condon's Beauty and the Beast has found its Lumière. Ewan McGregor is in talks to play the amorous candlestick, who used to be a regular old human servant before the Beast mouthed off to some witch who cursed his entire household. More on the Beauty and the Beast Ewan McGregor casting after the jump. Variety broke the news of Ewan McGregor in Beauty and the Beast. Scripted by Evan Spiliotopoulos and rewritten by Steve Chbosky, Condon's Beauty and the Beast is a live-action retelling of the award-winning 1991 animated feature from Disney.
The upcoming Beauty and the Beast will feature new recordings of songs from the earlier film, along with original songs by Alan Menken and Tim Rice. In the animated version, Lumière sings the showstopper "Be Our Guest."
Emma Watson leads the cast as Belle, a bookish young woman who allows herself to be taken captive by the Beast (Dan Stevens) in order to save her father Maurice (Kevin Kline). Luke Evans stars as Belle's arrogant would-be suitor Gaston, and Josh Gad as Gaston's faithful sidekick Lefou.
The buzzy cast also includes Ian McKellen as uptight clock Cogsworth, Emma Thompson as maternal teapot Mrs. Potts, Audra McDonald as welcoming wardrobe Garderobe, and Gugu Mbatha-Raw as flirty feather duster Plumette. With McGregor on board to play Lumière, all of the major roles from the 1991 Disney animated feature have been filled.
Beauty and the Beast is one of several live-action fairy tales in the works at Disney, along with The Jungle Book, Dumbo, Mulan, Pinocchio, and Winnie the Pooh. McGregor previously starred in a live-action fairy tale for rival Warner Bros., Jack the Giant Slayer.
McGregor is coming off the Sundance pic Last Days in the Desert, which got great reviews, and Johnny Depp's Mortdecai, which didn't. His other upcoming roles include Gavin O'Connor's Western Jane Got a Gun and the Miles Davis biopic Miles Ahead.
Beauty and the Beast lands March 17, 2017.