New 'Tomorrowland' Trailer: Technology And Action Highlight This Latest Look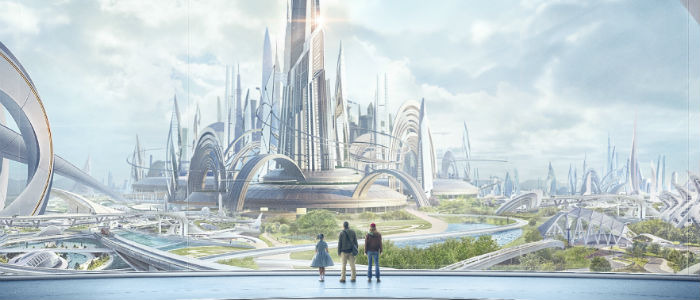 Until now, all the trailers for Brad Bird's Tomorrowland have primarily sold wonder. A girl finds a pin that shows her another world. There's a flying bathtub, giant robots, someone with a jet pack, and a rocket powered Eiffel Tower. Just a big hodgepodge of awesome.
A third trailer has now been released and it is much more focused. It's pretty much an entire scene from the film, featuring George Clooney and Britt Robertson, with lots of what makes the film so unique. Clooney's house is a Temple of Doom for the people chasing them, littered with crazy defensive gadgets aiding in the battle. Less is learned about the movie as a whole, but we see the potential this scenario has to show us anything is possible.
Below, see the latest Tomorrowland trailer as well as a new IMAX poster.
Third Tomorrowland Trailer
Some people have been down on this movie recently, saying they aren't excited for it. Frankly, I don't understand. This is what we want! A big, original sci-fi movie from one of the best filmmakers in the business. We talk about franchise and sequel fatigue yet this is the antithesis and no one is excited. Maybe this trailer changes that.
Also – in case you missed it – Tomorrowland will play in an expanded aspect ratio in IMAX, and you can see a six-minute preview for the film in front of Avengers: Age of Ultron IMAX screenings.
And because of that, here's a new IMAX poster: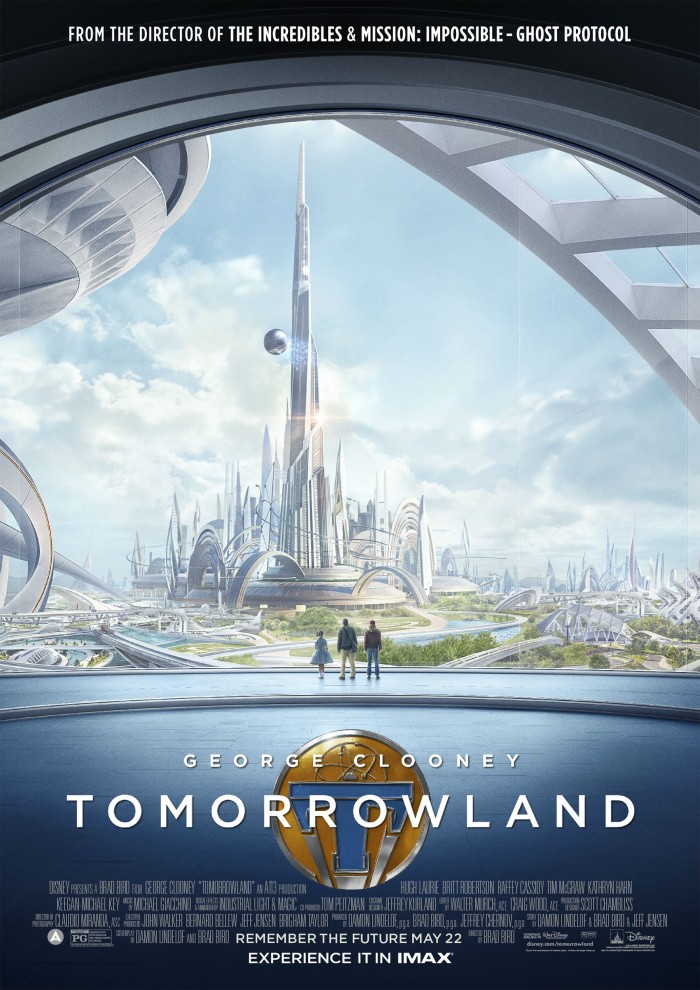 In addition, if you want to learn more about the movie, the official site takemetotomorrowland.com is absolutely gorgeous. There's hidden content and lots of new visuals. Here's just one screenshot.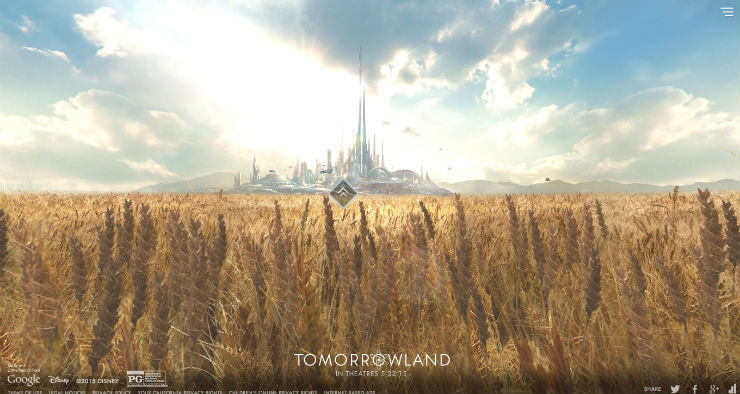 What did you think of the latest, and possibly final trailer?
From Disney comes two-time Oscar winner Brad Bird's "Tomorrowland," a riveting mystery adventure starring Academy Award winner George Clooney. Bound by a shared destiny, former boy-genius Frank (Clooney), jaded by disillusionment, and Casey (Britt Robertson), a bright, optimistic teen bursting with scientific curiosity, embark on a danger-filled mission to unearth the secrets of an enigmatic place somewhere in time and space known only as "Tomorrowland." What they must do there changes the world—and them—forever.
Featuring a screenplay by "Lost" writer and co-creator Damon Lindelof and Brad Bird, from a story by Lindelof & Bird & Jeff Jensen, "Tomorrowland" promises to take audiences on a thrill ride of nonstop adventures through new dimensions that have only been dreamed of.
The film also stars Hugh Laurie as brilliant scientist David Nix, Raffey Cassidy, Tim McGraw, Kathryn Hahn, Keegan-Michael Key and Thomas Robinson.
"Tomorrowland" is produced by Damon Lindelof, Brad Bird and Jeffrey Chernov and directed by Brad Bird, with John Walker, Bernard Bellew, Jeff Jensen and Brigham Taylor serving as executive producers. "Tomorrowland" opens in U.S. theaters on May 22, 2015.