Adrianne Palicki And Nick Blood Lead 'Agents Of SHIELD' Spinoff Cast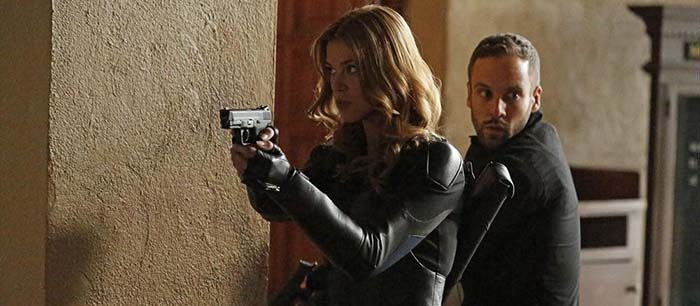 Adrianne Palicki had one shot at superhero stardom on TV when she nabbed the lead role in a Wonder Woman pilot. That show never made it to series, however. But she ended up as a regular on the second season of Marvel's Agents of SHIELD, and now she's one of the two leads of the developing SHIELD spin-off series.THR reports that the star characters will be the formerly-married and currently bickering Bobbi Morse, aka Mockingbird (Palicki) and Lance Hunter (Nick Blood) from the current season of Agents of SHIELD. The plot details are unknown, but with these two as leads, might the show be set up as a sort of Mr. and Mrs. Smith spin on the Marvel Universe?
We don't know what this show will be called, but it will not get a back-door pilot in the form of a current SHIELD episode. We do know that it comes from SHIELD exec producer Jeffrey Bell (Angel, The X-Files) and writer Paul Zbyszewski (Lost).
The Wrap also says — potential spoilers here for the end of SHIELD season 2 – that "the characters are ex spouses and have been involved in a storyline in which they share a secret plan involving Nick Fury's toolbox, not yet revealed to the audience or other characters on the current season."
There's also a new Marvel show in development at ABC, from 12 Years a Slave writer John Ridley. We don't know what that series is, however — not even the character(s) that will anchor it. This spinoff is a separate thing, however.