'Pan' Pushed From July To Fall Release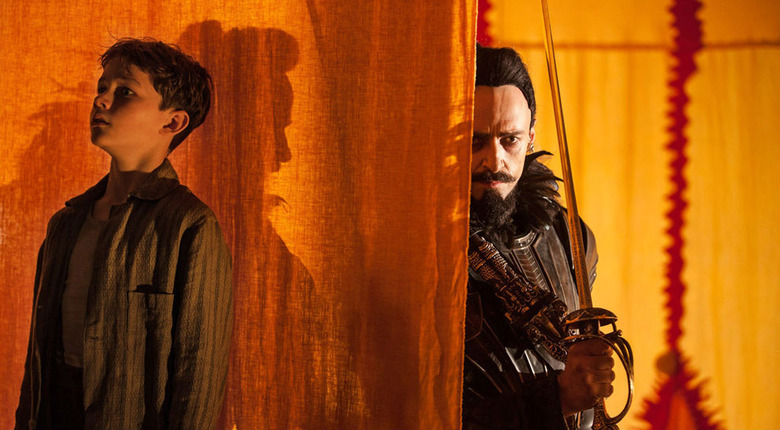 We don't know quite what to make of Pan, the Peter Pan origin story that Warner Bros. will open this year. Sure, it stars Hugh Jackman and is directed by Joe Wright (Hanna, Atonement) but that first trailer was... well, it was colorful and odd, but not one of the best we've seen. It's still early, though, and now we'll wait a few months longer to find out what Pan is all about, as it gets some extra visual effects time and room to breathe on the calendar. The Pan release date has been pushed from July of this year to early October. 
THR reports that the film is moving from July 24 but is now being pushed to October 9, 2015.
Of the move, Joe Wright said,
As you might expect, the fantastical story of Peter Pan involves very complex effects and I did not want to compromise on quality in finishing the film.  This allows me and my team the time to complete the movie and tell the story the way it should be told.
Dan Fellman, head of domestic distribution at Warner Bros. says,
We wanted to give Pan the space to extend its theatrical run, so taking it out of the cluttered summer season made the most sense. Moving the film to the heart of the fall will allow us more time to screen the picture, enabling us to capitalize on what we anticipate will be strong word of mouth.
This move definitely takes Pan out of the crowded 2015 summer lineup, and drops it right into what is sure to be a crowded post-festival fall 2015 lineup. Does that mean the film is an awards contender? We don't know, but Warner Bros. does already have a packed schedule this summer, with nine films hitting between May and August — from Mad Max: Fury Road (May 15) to Me Before You (August 21).
This also takes Pan out of contention against the second week for Ant-Man and Trainwreck, and the opening weekend for Pixels and Southpaw — all in all, probably a smart move.
Pan's new competition is the Steve Jobs movie from Danny Boyle, and the Halle Berry thriller Kidnap.