Hasbro Expects 2017 Transformers 5 Release Date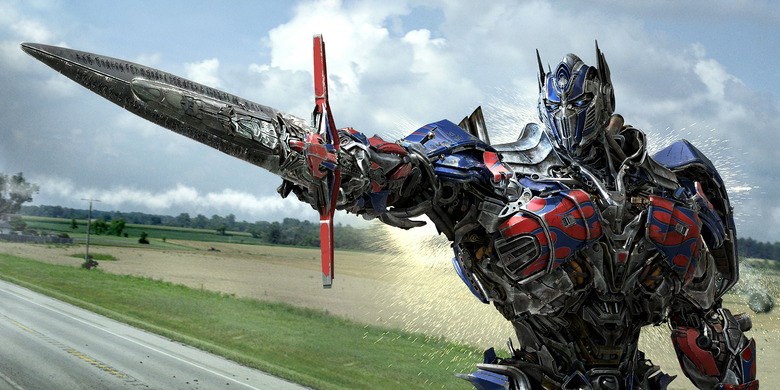 Now that we know Transformers is becoming a larger cinematic universe, the importance of the next film increases drastically. The filmmakers will need to make sure their story not only works individually, but also sets up the world moving ahead. Because of that, thing are going to take a bit longer than expected. Though rumors initially suggested Transformers 5 could come out in 2016, now Hasbro believes 2017 is more realistic. Read more about the rumored Transformers 5 release date below.
The news came from Transformers World, who reported on the Hasbro Quarter 1 Investors call. Here's the quote from CEO Brian Goldner:
Our plan with the studio and filmmakers you may have heard some writers being hired and we have in fact brought in Akiva Goldsman to lead a group of writers to really create a strategic plan around Transformers. We think there are any number of stories to be told from the brand that has been around for 30 years with amazing canon and mythology. We would expect the sequel to the Transformers movie [TF4] to happen in 2017.
The Goldsman news we already knew. But the 2017 window is the big update. It makes perfect sense, of course. If Transformers 5 was actually going to come out in 2016 it would have needed a release date by now, not to mention a writer and probably even a director. Currently it has none of those. In fact, 2017 release dates are actually being filled pretty quickly at this time too. The usual Transformers late June, early July release dates in 2017  are already filled with movies like Toy Story 4, Despicable Me 3, one of the DC films and Pirates of the Caribbean 5. So if 2017 is to be the year we see Transformers 5, Paramount will likely make a decision soon.
Not to mention, the extra year will give director Michael Bay – if he plans on coming back – time to finish the film he's working on now – 13 Hours.
Do you think 2017 is when we'll see Transformers 5?