Emma Stone And Steve Carell Will Engage In 'Battle Of The Sexes' For Producer Danny Boyle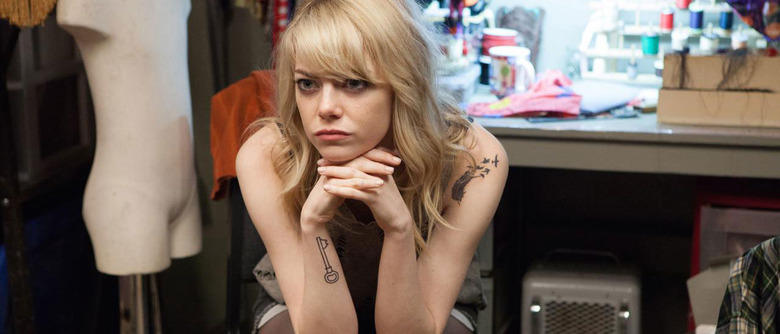 Prepare for the battle of the Battle of the Sexes. Fox Searchlight has just set Steve Carell and Emma Stone for a film about the 1973 tennis match between Bobby Riggs and Billie Jean King. Jonathan Dayton and Valerie Faris are directing and Danny Boyle is producing. This Battle of the Sexes is one of not two, but three developing projects about the titular event. 
Simon Beaufoy (Slumdog Millionaire) wrote the script for Battle of the Sexes. Christian Colson (Steve Jobs) will produce with Boyle. We first got word of Battle of the Sexes last year, when word got out that Boyle and Beaufoy had met with King to discuss the project. (Riggs died in 1995.) But Beaufoy had been working on the script for several years before that.Battle of the Sexes centers on one of the most-watched sporting events in American history. Riggs, then 55, challenged King, then 29, to a match. Riggs had been taunting female players for their supposed inferiority, and the two became stand-ins for their respective genders. King accepted, and beat Riggs on the court.Deadline describes Battle of the Sexes "a comedy with dramatic and political overtones, handled in the quirky warm and engaging way that Little Miss Sunshine was." Given that, it's hard to think of a better team to bring this project to life. Dayton, Faris, and Carell all worked together on Little Miss Sunshine, and Carell and Stone starred together in the quirky-sweet Crazy, Stupid, Love.
The Riggs v King match was previously dramatized as a 2001 TV movie starring Holly Hunter and Ron Silver. Lately, though, it's become Hollywood's favorite topic. HBO Films signed Paul Giamatti and Elizabeth Banks for their own (as yet untitled) production, and Chernin Entertainment and Gary Sanchez have Will Ferrell on board to play Riggs in Match Maker.
None of these projects have release dates yet, but Battle of Sexes is moving fast. Fox Searchlight is targeting a fall start, with a 2016 bow in mind.