LOL: 'Ant-Man' Gets Some Ant-Sized Billboards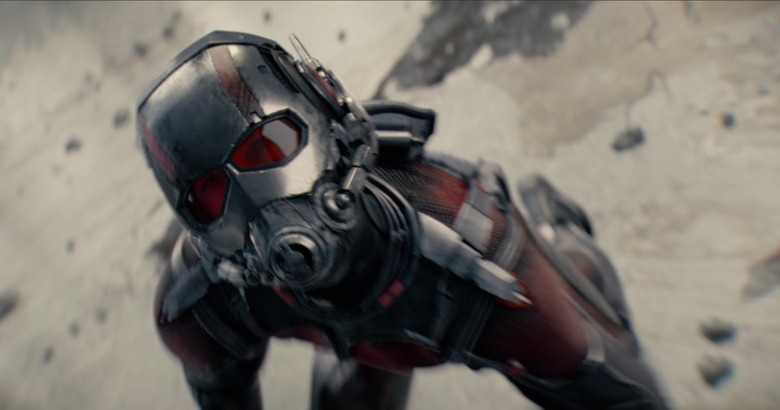 In typical fashion, Marvel Studios has put up a bunch of billboards to advertise its upcoming superhero movie, Ant-Man. In less typical fashion, these billboards are sized not for normal men, but for Ant-Men. That is, they're freaking tiny.
Photos of the tiny Ant-Man billboards surfaced on Reddit (via ScreenCrush). So far they seem limited to Australia, but fingers crossed they'll make their way to our shores. We have ants here in the U.S, too, Marvel. Also of note is that they're attached pretty firmly to their surfaces – not that that's stopped various Redditors from plotting to take them.
While the billboards don't explain much about the movie itself, they're a clever bit of marketing sure to grab people's attention. The tiny ads of a piece with the ant-sized teaser and the ant-sized poster released earlier this year. The premise of Ant-Man is kind of a tough sell, but these stunts help by emphasizing the movie's cheeky, self-aware sense of humor.
But you know, as cute as this gimmick is, I have to wonder what would happen if ants actually could watch and understand the movie. I suspect they don't have much love for humans, who think nothing of massacring them by the hundreds or thousands, and I bet they'd be pretty offended at the idea of some guy just coming into their world and bossing them around.
Ant-Man opens July 17, 2015. Paul Rudd, Michael Douglas, Evangeline Lilly, and Corey Stoll star. Peyton Reed directed.
The next evolution of the Marvel Cinematic Universe brings a founding member of The Avengers to the big screen for the first time with Marvel Studios' "Ant-Man." Armed with the astonishing ability to shrink in scale but increase in strength, master thief Scott Lang must embrace his inner-hero and help his mentor, Dr. Hank Pym, protect the secret behind his spectacular Ant-Man suit from a new generation of towering threats. Against seemingly insurmountable obstacles, Pym and Lang must plan and pull off a heist that will save the world.
Marvel's "Ant-Man" stars Paul Rudd as Scott Lang aka Ant-Man, Evangeline Lilly as Hope Van Dyne, Corey Stoll as Darren Cross aka Yellowjacket, Bobby Cannavale as Paxton, Michael Peña as Luis, Judy Greer as Maggie, Tip "Ti" Harris as Dave, David Dastmalchian as Kurt, Wood Harris as Gale, Jordi Mollà as Castillo and Michael Douglas as Hank Pym. Directed by Peyton Reed and produced by Kevin Feige, Marvel's "Ant-Man" delivers a high-stakes, tension-filled adventure on July 17, 2015.