'John Wick' Directors Will Make 'Bloodshot'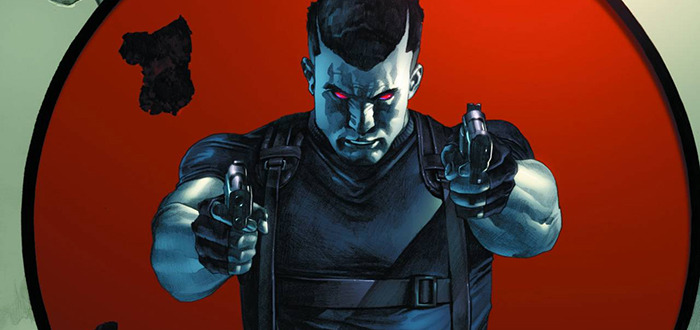 We recently heard that Valiant Entertainment scored millions to turn Valiant comic book series like Bloodshot, Harbinger and Archer & Armstrong into film franchises. Now Valiant has announced a five-picture deal with Sony Pictures, which will bring two series, Bloodshot and Harbinger, to theaters starting in 2017.
Eric Heisserer (The Thing, Story of Your Life) is working on scripts for both, and the Bloodshot movie director — sorry, directors — will be David Leitch and Chad Stahelski, who made John Wick. THR reports that Sony's plan is to make two Bloodshot films and two Harbinger films, followed by a fifth movie uniting the two series, called Harbinger Wars.
Here are the creative teams as we know them:
Bloodshot: To be directed by the John Wick filmmakers David Leitch and Chad Stahelski, based on a script by Jeff Wadlow (Kick-Ass 2) and Eric Heisserer. Matthew Vaughn and Jason Kothari are exec producers.
Brought back from the dead and infused with cutting-edge nanotechnology by private security contractor Project Rising Spirit, Bloodshot is a nearly unstoppable killing machine equipped with enhanced strength, speed, endurance, and healing. Created by Kevin VanHook, Don Perlin, and Bob Layton in 1992, Bloodshot is one of the most successful new comic book characters of the past two decades with more than 100 issues published and lifetime sales of more than 7 million copies in multiple languages around the world. After returning with a sold-out new series in 2012, Bloodshot's latest chapter recently began with the release of Bloodshot Reborn #1 in April—the first issue of a new series from New York Times best-selling writer Jeff Lemire and artist Mico Suayan.
Harbinger: Director is yet to be announced, but the script is from Eric Heisserer.
Centered on telekinetic teenage runaway Peter Stanchek and his recruitment into the mysterious Harbinger Foundation by secretive CEO and philanthropist Toyo Harada, Harbinger was created by former Marvel Editor-in-Chief Jim Shooter and artist David Lapham in 1992. Having sold more than 5 million copies worldwide in multiple languages across more than 60 issues, Harbinger returned with a new series in 2012 to multiple sold-out printings and widespread critical acclaim.
Harbinger Wars: All details yet to be announced, as the film is far in the future. It seems like a safe bet that Heisserer might be involved on the script side, and the film will be based in part on the 2013 Harbinger Wars comic series by Joshua Dysart, Duane Swierczynski, Clayton Henry, Pere Perez and Clayton Crain.
Valiant's Dinesh Shamdasani is producing the entire slate, with Original Film's Neal H. Moritz and Toby Jaffe, who are behind the Fast and Furious films and 21 Jump Street.