How To Make Your Own Rolling BB-8 From 'Star Wars: The Force Awakens'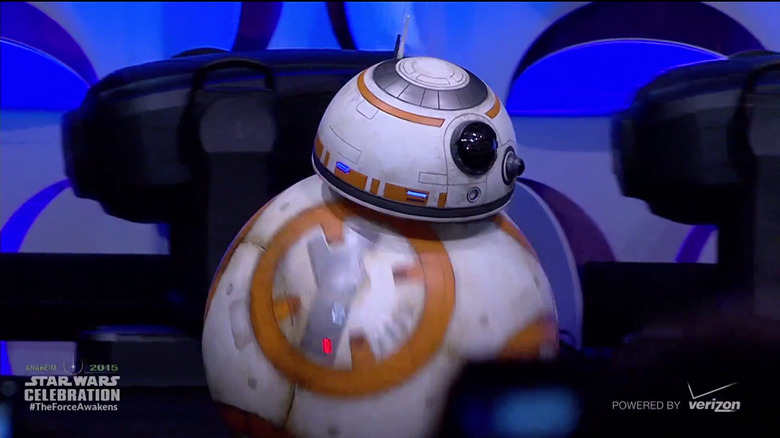 Some pretty big names attended Star Wars Celebration this weekend — including Mark Hamill, Carrie Fisher, and J.J. Abrams — but the real belle of the ball (no pun intended) was BB-8. The droid's surprise appearance at the Star Wars: The Force Awakens panel was all the more surprising because up until this point, many fans had assumed he was a CG creation.
But BB-8 is real, at least in the sense that he is a practical effect rather than a CG one. And better yet, he's one you can (mostly) replicate at home. Find out how to make your own BB-8 after the jump. 
As we reported, BB-8's guts are essentially a modified version of the Sphero, a remote-controlled ball toy. Naturally, the DIY toy version is built around the Sphero as well.
Make: has the six-step process, which involves sticking a magnet inside the Sphero, sticking another magnet under a foam dome, and letting magnetic attraction and Sphero's existing technology do the rest.
The entire project takes a bit of time and elbow grease — not to mention money, because Sphero doesn't come cheap at $130. But it's actually surprising how simple the mechanics of BB-8 wind up being.
Here are the results of the DIY project:
Amazing.
BB-8 was borne of Disney's "accelerator" program for tech startups. Each selected company receives money and is assigned a mentor; Sphero got to work with Bob Iger. Meanwhile, director J.J. Abrams was committed to using practical effects over CG ones. From there, it's not too difficult to understand how Sphero's technology wound up powering The Force Awakens' most adorable new character.
If the process of making your own BB-8 sounds too intense, all you really need to get your own BB-8 is some patience. Since Disney worked directly with Sphero on the adorable little droid, we're guessing an officially licensed toy version will be on shelves in the not-too-distant future.