'Star Wars: Rogue One' Details: Theft Of Death Star Plans Confirmed As Plot; Plus Footage And Concept Art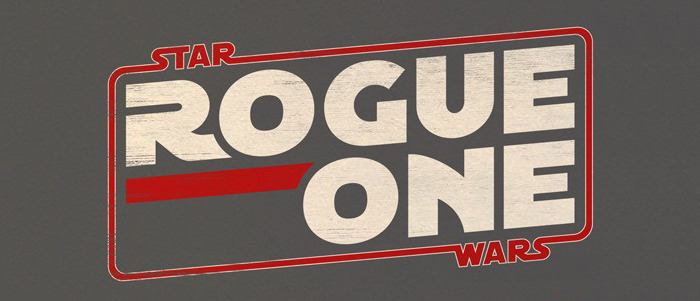 Today at the final day of Star Wars Celebration, Star Wars: Rogue One director Gareth Edwards took the stage for a panel called "Conversations with Gareth Edwards and Josh Trank." Oddly, Trank did not show up (Kathleen Kennedy said he woke up sick) and in the end of there was no further mention of him or his film. Edwards, however, was on hand to show a very brief teaser and provide some Rogue One plot details, including a confirmation of our plot scoop.
Star Wars: Rogue One is the first film in the new Star Wars Anthology series (that's the official title for the spin-off movies) and features a plot in which "a rogue band of fighters come together to steal the death star plans." Get more details, including a full teaser trailer description, below.
A band of resistance fighters unite for a daring mission to steal the Death Star plans in Star Wars anthology film, Rogue One #RogueOne.

— Star Wars | Andor & Tales of the Jedi On Disney+ (@starwars) April 19, 2015
The teaser trailer shown was simple.
A card with "December 2016" fades in and out, with a sound that is somewhere between a slow Inception horn and a lightsaber. Then a familiar voice: Alec Guinness as Obi-Wan Kenobi, saying "For more than a thousand generations, the Jedi Knights were the guardians of peace and justice in the old Republic. Before the dark times. Before the Empire."
As he speaks, the teaser fades in on a tracking shot, high up through a forested canyon. We hear a TIE Fighter pass overhead, and see the ship move forward into frame as the camera continues to push forward. We see, dominating the sky, the outline of what could be a moon. But that's no moon, it's a... well, you know what it is. The Death Star. Music swells and the screen goes black. The Rogue One logo comes up, and we hear radio voices, like troops communicating during combat. The chatter gets more frantic and loud as light strobes on the logo, which finally breaks up as the sound cuts out.
UPDATE: Here's a low res version
Here's the logo:
This is what the Rogue One logo looks like, giving you an idea of how the stand alone movies will be presented pic.twitter.com/JW5wl5qixZ

— /Film (@slashfilm) April 19, 2015
Gareth Edwards says that Felicity Jones plays a rebel soldier. "We wanted to see fear, humor, and warmth" in the character, he said, not just a cliched image of a warrior. More important, this is definitely a war movie. "It's called Star Wars," emphasized the director. This film is about moral grey areas and realities of war, and is set in between Episode III and IV — and closer to IV, aka the original Star Wars. Greig Fraser, who shot Zero Dark Thirty, is the cinematographer.
Rogue One is set in a time when the Jedi are basically extinct — there are no warriors with "magical powers" to save the day. "It's about the fact that God's not coming to save us," said Edwards. "The absence of the Jedi hangs over the movie." So this could be a very different Star Wars movie, one that features more "reality" than we've ever seen, and potentially some slightly morally murky characters, from a moral perspective. And it has a female lead — color us very
But Neal Scanlan is on for creature design and effects, so don't think this won't look like a Star Wars movie. I think we can assume that, despite some leanings towards more adult concepts than we've seen in Star Wars, this film will still essentially fit into the overall feel of the series. Edwards also mentioned that there are "opportunities" in the fact that this film is set in the same time period as Star Wars Rebels — what that means is something we'll have to wait to see.
This film was pitched by John Knoll of ILM, who first talked about the standalone film idea to co-workers at ILM and LucasFilm. They loved it, and suggested he pitch it for real.  and they all told him he should pitch it to the company. He did, and when Kathleen Kennedy came on board as head of Lucasfilm, this became one of her very first priorities.
This concept art was show, via StarWars.com: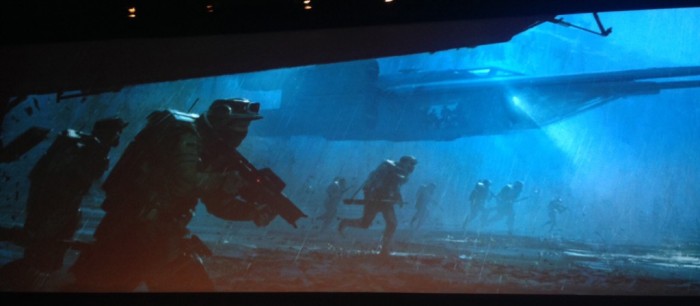 Gareth Edwards also spent a lot of time talking about his history with Star Wars fandom, and detailing the fact that he was hired to make this film during the production of Godzilla, but didn't even tell his family he got the job for months. He told them just before the trades reported the news.
Gareth Edwards is a real Star Wars fan. He spent his 30th birthday visiting the set of the Slywalker home. pic.twitter.com/Q9KnaIPTzh

— /Film (@slashfilm) April 19, 2015
This is the moment that Gareth Edwards told his mom he would be directing a Star Wars movie. pic.twitter.com/Jct4jgo63R

— /Film (@slashfilm) April 19, 2015
Star Wars: Rogue One, written by Gary Whitta and Chris Weitz, will be directed by Gareth Edwards. It's scheduled for release on December 16, 2016. Felicity Jones is confirmed to star and Ben Mendelsohn is rumored for the cast.