Watch Awesome 'The Force Awakens' Droid BB-8 Appear Live On Stage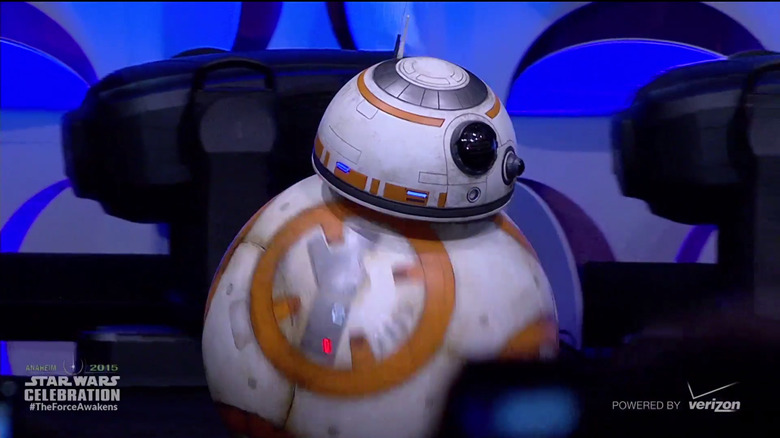 The most impressive thing at The Force Awakens panel at Star Wars Celebration today was clearly the film's new teaser trailer. (Watch it here; see a photo breakdown here.) But the next best thing was a demo I don't think anyone saw coming. The first Force Awakens teaser featured a shot of the rolling droid BB-8, which most everyone assumed to be a CG creation. Surprise! The BB-8 effects are actually practical, as we learned today when the droid rolled onto the Celebration stage. (Mark Hamill had said as much in December, but even then there was the assumption that some of the droid was CG.)
Making things better, that appearance on stage gave us a chance hear a lot more from the droid, and get a sense of the character's personality. That's something that both teasers have only hinted at. Check out the BB-8 effects below.
How awesome is that robot? It's so much cooler than any of us expected. BB-8 was cute when we thought the droid was CG; knowing that it is a practical effect makes him significantly more impressive.
The guy JJ Abrams gives a shout out to there is Neal Scanlan, who also did effects for Prometheus, and has a resume that includes animatronic work on Babe: Pig in the City, mechanical effects for The Little Shop of Horrors, and a good deal of work at Jim Henson's Creature Shop. But it seems like Scanlan has outdone himself here.
We're dying to know how this robot was created, but we'll probably have to wait several more months for that.