Russell Brand And More Join Nicolas Cage In 'Army Of One'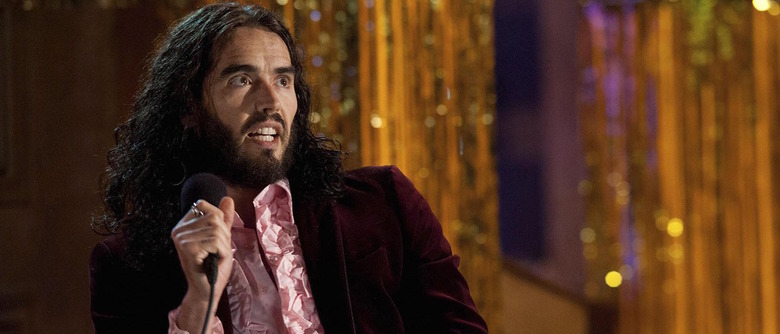 Despite the title, Nicolas Cage won't be left all alone in Army of One. In fact, he's just picked up a bunch of very funny co-stars. Russell Brand, Denis O'Hare, Ken Marino, Paul Scheer, and Rainn Wilson have all signed on for the comedy, about an American handyman who sets out to capture Osama bin Laden. What makes the premise even crazier is that it's based on a true story.
Wendi McLendon-Covey also stars. Larry Charles (Borat) is directing. Details on the new Army of One casting after the jump. 
Adapted from a 2010 GQ article by Chris Heath, Army of One follows the travails of one Gary Faulkner. Thanks to a vision, he's convinced he was hand-picked by God to find bin Laden. So Faulkner sets out for Pakistan, with no particular skills or equipment.
The real-life Faulkner stuck with his mission for quite some time. By the time he was arrested in Pakistan, armed with a sword, a dagger, and a pistol, he was on his eleventh attempt to find the terrorist leader. The press caught on and dubbed him the "Rocky Mountain Rambo."
Scott Rothman and Rajiv Joseph (Draft Day) wrote the script for Army of One. But we're probably also in for some heavy improv a la Borat, as Army of One is described as a satirical "semi-scripted project."
The new cast members should help on that front. Along with McLendon-Covey, Brand, Marino, Scheer, and Wilson are all strong comedic actors with improv experience. McLendon-Covey will play the girlfriend of Faulkner, who'll be portrayed by Cage. The other cast members' roles have not been revealed.
Besides Borat, Charles' film directing credits include The Dictator, Brüno, and Religulous. More recently, he's busy writing, directing, and executive producing the new FX series The Comedians, starring Billy Crystal and Josh Gad.
Army of One is aiming to shoot this spring for release late this year. In the meantime, consider the comedic possibilities of this premise by watching this real-life interview with Faulkner and David Letterman.