Is IMAX Laser Projection The Future Of Movies? Read Our Impressions And Watch A Video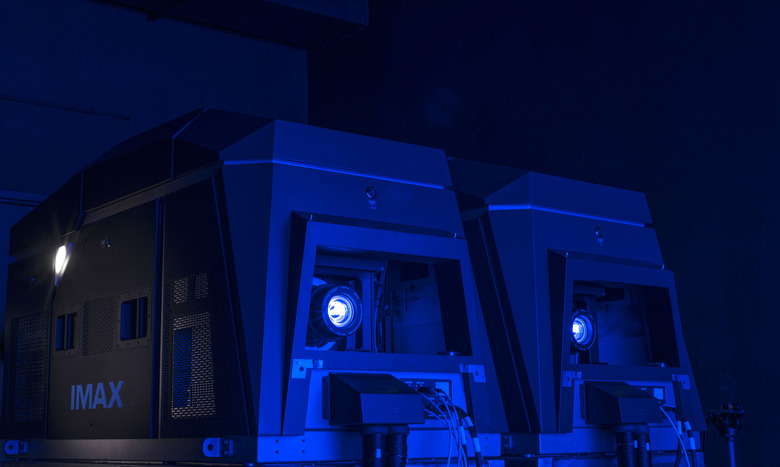 Most people would agree the best theatrical movie experience is 70mm IMAX film projection. With IMAX Laser, the company's aim was to try and replace – and hopefully even surpass – that experience. They've succeeded.
Earlier this month, IMAX debuted the first IMAX Laser projection system in the United States at the TCL Chinese Theater in Hollywood, CA. This system is 60% brighter than traditional film projection, with darker blacks and whiter whites creating a contrast that is exponentially better than 70mm IMAX projection. "You haven't seen a movie until you've seen it in IMAX Laser at the TCL Chinese," said Alwyn Hight Kusher, the president of the theater. That might be a slight overstatement, but IMAX Laser is definitely another evolutionary step in the theatrical experience.
Below, watch a video about IMAX Laser projection and read some more details.
Here's a video on the technology:
Over the course of about a half hour, the presentation included various clips both in traditional RealD 3D and then IMAX Laser and IMAX Laser 3D. The biggest differences we saw were in the perfect blacks, bright whites and brightness of the 3D. The first Star Wars: The Force Awakens trailer looked almost brighter in 3D when played via Laser than it did in 2D.
Laser also does an amazing job at making details pop. Beard stubble, individual hairs, the cracks in a shoe. These are details that you never see when a film is projected normally. With laser, everything is just cleaner and crisper.
How is this achieved? Well, the projectors themselves are about six feet high, six feet deep and three feet wide. And there are two of them. This allows both very solid 3D imagery, but also double the amount of pixels in a 2D movie. There are about 100 lasers in each system shooting at about 800,000 tiny mirrors. This is how they can directly influence each pixel.
A director doesn't have to shoot in any special way to be projected in IMAX Laser, either. The company offers a digital remastering process that makes the film look crisper when projected in laser than it would in any other theater.
Watching footage from several different things in IMAX Laser, the difference was only noticeable at times. During the Furious 7 trailer, the detail and contrast was crisper but not in a way that made your jaw drop. Then, showing a scene from Rocky Mountain Express – a 2011 IMAX documentary – the image was absolutely stunning. Think along the lines of the bump from DVD to Blu-ray, with white smoke that looked 3D it was so white, and details in every single tree in the environment. IMAX executives admitted that the better the original photography, the better something will look in IMAX Laser.
So, when and where can you see IMAX Laser? In the US it's currently only at the TCL Chinese in Los Angeles. There's also one in Toronto, and by the end of the year they hope to have 15-20 different theaters with the capability. Some examples are the Lincoln Square in New York, the Metreon in San Francisco, the Smithsonian in Washington DC, Pacific Science Center in Seattle and Leicester Square in London. Currently, the system only works in large screen IMAX theaters. They're working on a system that would go into the smaller screens too, and with a 12.0 surround sound system.
It should also be noted that IMAX doesn't see laser as a total film stock-killer. They still make film cameras and if a filmmaker wants to project on film instead of laser, they can do that. It's totally up to the director's discretion. But in the years to come, you can pretty much bet IMAX Laser is setting the standard for what's to come.
Is IMAX Laser the future of movies? It looks like it. Even if it doesn't 100% change the game, there's no doubt it's a step above the general digital projection 99% of theaters currently have.
Here are some facts about laser projection direct from IMAX:
Representing the largest R&D investment in its history, IMAX with laser draws on the company's 47 years of intellectual property, the exclusive laser-related patents that IMAX licensed from Kodak, and laser innovations from its projection partner, Barco.
IMAX with laser delivers audiences unparalleled levels of brightness, contrast, color and sound.
It is designed for IMAX's largest screens (75 feet or greater in width) and can present an aspect ratio of up to 1:43:1.
IMAX with laser features two 4K projectors running simultaneously with sub-pixel alignment in both 2D and 3D to deliver a perceived resolution greater than 4K.
A new 12 channel with sub-bass sound system, featuring ceiling loudspeakers and additional side wall speakers, that delivers a new kind of visceral sound experience.
In addition to built-in image calibration and audio tuning features, the system is linked to IMAX's 24/7/365 Network Operations Center, which is constantly monitoring thousands of system components to ensure optimum performance, show after show.
The Cineplex ScotiaBank Theatre in Toronto was the first theatre to debutIMAX with laser. The TCL Chinese Theatre was the first in the U.S. to debut the technology and it was done in conjunction with the first worldwide film premiere to be presented in laser for Furious 7 in April 2015.
IMAX has signed more than 71 laser deals around the world including the most prestigious and iconic commercial theatres, museums and science centers.