'Orange Is The New Black' Renewed For Season 4; Check Out A New Season 3 Clip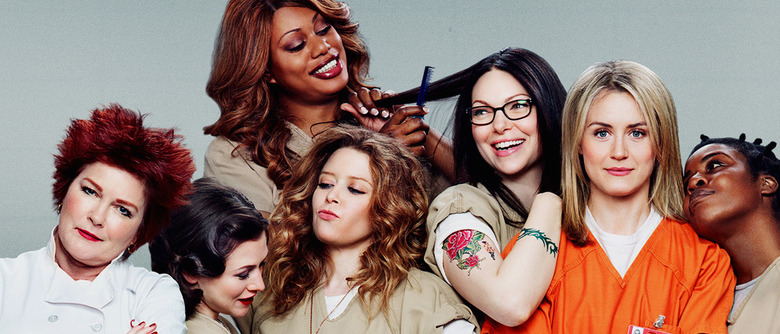 Our stay at Litchfield Correctional Institution has been extended just a little while longer. Netflix has renewed Orange Is the New Black for Season 4, months ahead of its Season 3 premiere. And to get everyone extra-excited about the news, they've just released a new clip from Season 3 featuring fan favorites Poussey and Suzanne (a.k.a. Crazy Eyes).
Read about the Orange Is the New Black renewal and check out the Season 3 clip after the jump.
Actress Uzo Aduba, who plays Suzanne, announced the Orange Is the New Black renewal on Good Morning America this morning. "Season 4 is now the new news," she said. "In June we're going to go back to work. Netflix just let us know we're going to be doing a new season."
While Netflix won't release exact viewership numbers, it's clear Orange Is the New Black has been a big win for the streaming service. The show garners tons of buzz and has even picked up some significant prizes, including PGA and SAG awards and a handful of Emmys. Renewing it seems like a no-brainer, though the decision comes a bit earlier than we might have expected.
Orange Is the New Black's success initially came as a surprise, as it came with neither a familiar brand name (a la Arrested Development Season 4) nor a famous lead actor (a la House of Cards). But Aduba has a sound theory as to why it caught on:
I think people find themselves surprisingly relating to a lot of these characters. It's not just exclusively about inmates. These are people's mothers, daughters, sisters, friends, neighbors, employees, and people can relate to those struggles and the challenges of just trying to make it through every day. And I think also it's this idea that good people — good people — can make mistakes.
In addition to the Season 4 news, there's also a new Season 3 clip for Orange Is the New Black fans to enjoy. While Vee is out of the picture, the effects of her reign of terror are still being felt among the Litchfield inmates. That includes Suzanne, Vee's most loyal sidekick, and Poussey, Vee's favorite victim. Poor Taystee continues to be caught in the middle.
And here's the general Orange Is the New Black Season 3 trailer released earlier this month. All of our favorite Litchfield ladies are back – even the ones that managed to get free at some point – and there are a few new ones besides.
All 14 episodes of Orange Is the New Black Season 3 will hit Netflix on June 12.