'Whiplash' Director May Take Emma Stone And Ryan Gosling To 'La La Land'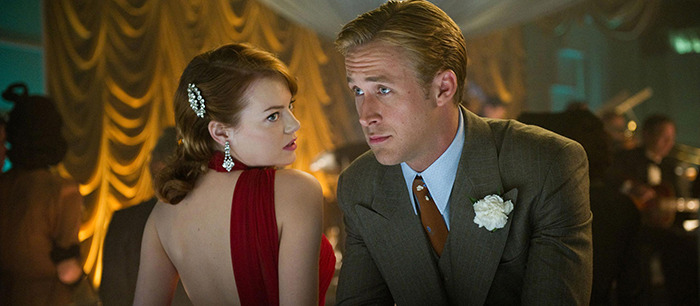 Emma Stone and Ryan Gosling have teamed for a film twice before. One was Crazy Stupid Love, and that worked out alright. The second movie was Gangster Squad (above), and the less said about it, the better. But that film's problems weren't related to the casting, and we'd be happy to see them work together again. Now they're looking at La La Land, the musical that Whiplash director Damien Chazelle is assembling as his follow-up to the conservatory nightmare that blew minds in 2014.Deadline reports that Gosling and Stone are "circling" the film, so deals aren't done.
In Gosling's case, he's reportedly stepping up to a role that we assumed would go to Whiplash star Miles Teller, but reportedly that deal didn't work out. And the other lead role once belonged to Emma Watson, but Beauty and the Beast has her locked up for a while. The idea is to shoot La La Land this fall, so there's some heat on this process.
(There's also talk that Eddie Redmayne could end up taking the lead male role here, as reported by The Wrap. But he may do the JK Rowling adaptation Fantastic Beasts instead.)
We don't know much about the script, which Chazelle also wrote, but it is called "an old fashioned romantic musical" that is set in modern Los Angeles with a script that "centers on an aspiring actress and jazz musician who fall in love but see their relationship tested by the high-stress environment of the city's arts and entertainment community."
Chazelle has described the movie like so:
I'd like to make a contemporary musical about L.A., starting with the L.A. we know but slowly building to a vision of the city as romantic metropolis–one that is actually worthy of the dreams it inspires. I'd like to make a musical about the way L.A.'s peculiar rhythms can push its residents to the edge of their emotions–be they hope, desperation or love. Think the kind of teetering-toward-madness you see in "The Graduate" or "Boogie Nights", and imagine if you were to push that further. In this case, the city pushes its residents all the way: it pushes them into song.
Lionsgate is behind La La Land, and with the studio pushing to shoot this fall, we'll probably know final cast details soon.
Stone has a couple completed films coming soon, Cameron Crowe's Aloha and Woody Allen's Irrational Man, while Gosling long ago shot for Terrence Malick's Weightless, and just finished Shane Black's Nice Guys. He's also in Adam McKay's The Big Short, which will be in the can before La La Land needs to roll, and may do Guillermo del Toro's Haunted Mansion, which would likely shoot later.