Star Wars Bits: Celebration Exclusives, Force Awakens Cast List, Battlefront Teaser, Hot Toys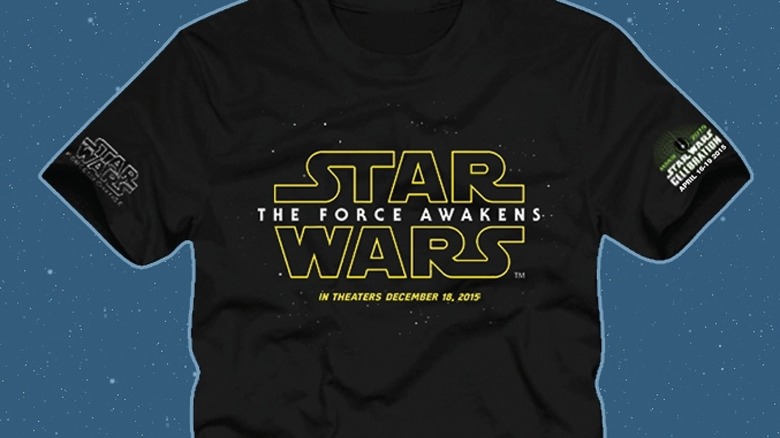 We could probably rename the site "Star Wars Bits" this weekend as Star Wars Celebration begins but, until then, we wanted to do one more round up before the madness started. Below, read about the following.
Will Star Wars Celebration have a full Force Awakens exhibit?
See the latest batch of official merchandise from Star Wars Celebration as well as Funkos.
Marvel may soon announce two new Star Wars comic books.
Is a full character list from The Force Awakens now online?
EA Star Wars continues to tease Star Wars Battlefront, which may first debut on XBox One.
Check out the Hot Toys Star Wars Celebration exclusive Spacetrooper figure.
Reporter Catrina Dennis posted the below photo from inside Star Wars Celebration as she was picking up her badge. It seems there will be some kind of Star Wars: The Force Awakens exhibit. MSW found the description and, yes, it's an exhibit of props and costumes.
That shirt at the top of the article, and lots more, are all in the fourth and final update on the official Star Wars website of Celebration exclusive merchandise. See it all here.
Speaking of Star Wars Celebration exclusives, check out these awesome pieces from Funko. More info here.
And these poster from Dark Ink Art, which are now on sale here along with others.
Buried in the Marvel.com press release for their panels at Celebration, Club Jade noticed this potential tease of two new comic books on the way:
Fans won't want to miss this panel that promises not one but two exciting announcements about the future of STAR WARS at Marvel!
Read more at the above link.
Making Star Wars has posted what may be their biggest spoiler post yet. They have complied what they believe is a full character list of every character in Star Wars: The Force Awakens. Everyone from Han Solo, down to Rebel Tech #4. Some you know, some are pretty big reveals if true.
This next tweet is self explanatory.
"I see why they call you the best bounty hunter in the galaxy." Introducing the formidable #BobaFett character car. pic.twitter.com/0eqZIapGTA

— Hot Wheels (@Hot_Wheels) April 13, 2015
The Star Wars EA Instagram has been posting a ton of teaser images leading up to Friday morning's reveal of new footage from Star Wars Battlefront. Here's just one of them.
A photo posted by EA Star Wars (@eastarwars) on
Also, a rumor is going around the game will first debut on XBox One. That'll likely be confirmed or denied on Friday.
Hot Toys revealed this brand new Stormtrooper that will be only available as an exclusive pre-order at Star Wars Celebration. Rebelscum has much more but here are just a few images. Click there for details.
And that's the last Star Wars Bits before Celebration. We'll have so, so much Star Wars news from Wednesday through Sunday.