'Batman V Superman' Footage Hits Thursday, Trailer Debut In Theaters April 20 [Update: Tickets Now On Sale]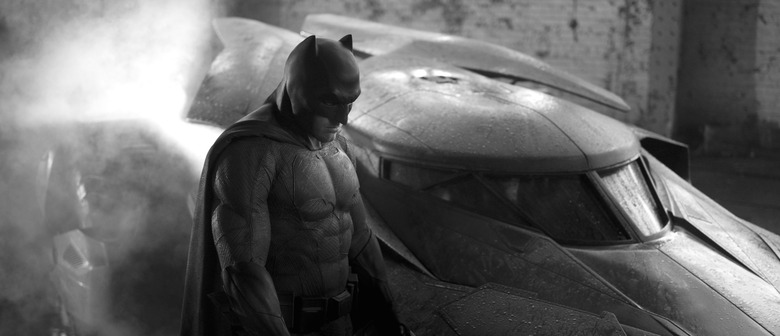 The race between Marvel and DC is about to heat up, and the result is that you're going to see some new Batman v Superman footage a lot sooner than expected. The first trailer from Zack Snyder's film has been reported to be attached to Mad Max: Fury Road, which opens on May 15. But in fact Snyder will reportedly drop a few seconds via Twitter this coming Thursday — just an hour before the new Star Wars trailer hits via Star Wars Celebration — and have the entire trailer in theaters on April 20.
Update #1: The latest info says that some IMAX theaters will have a "Batman vs Superman IMAX Trailer Event," with a running time of 15 minutes, on Monday April 20.Update #2: Tickets are now available. Go here to purchase.
Umberto from Latino Review send out this Instagram missive:
RT! HUGE #BatmanvSuperman RUMOR! Zack Snyder at 9am on Thursday, an hour before the start of Star Wars celebration will tweet the first five seconds of the new #BatmanvSupermanDawnofJustice trailer on his Twitter. You will then be able to sign up to view the full trailer in a theater on Monday April 20th. Also, the trailer will in fact be in front of prints of #AVENGERS #AGEOFULTRON! BOOM! #dc #marvel
A photo posted by Umberto Gonzalez (@umbertogonzalez) on
So, in short, five seconds of Batman v Superman footage on Thursday at 9am PST via Twitter, and then via some signup system there will be chances to see the full trailer theatrically the following Monday. We don't know how that system will work, or how many theaters will show the footage.
Update: Variety points to a Michigan IMAX theater that features a listing for a "Batman vs Superman IMAX Trailer Event"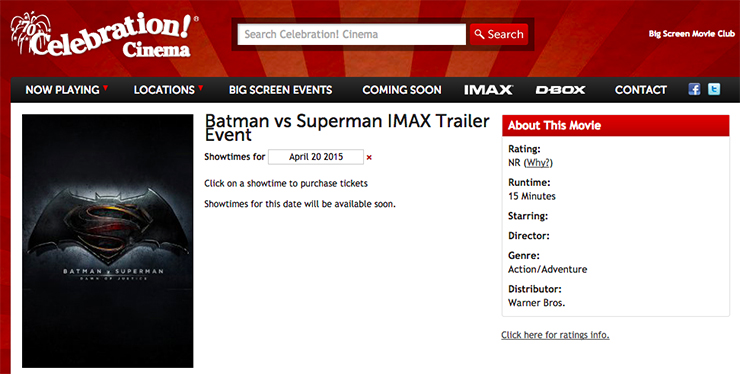 The Age of Ultron attachment is less confirmed, but since that film opens overseas beginning on April 22, that could be the reason for the April 20 theatrical bow in the US. And if the trailer will be in theaters, that means it will also likely go online; otherwise, it will simply be bootlegged like crazy. But wait for more info on that front.
Batman v Superman: Dawn of Justice stars Henry Cavill, Ben Affleck, Amy Adams, Laurence Fishburne, Jesse Eisenberg, Gal Gadot, Diane Lane, Jeremy Irons, Holly Hunter, Scoot McNairy, and Jason Momoa and opens in theaters on March 25, 2016.