'Joe Dirt 2: Beautiful Loser' Trailer: The Second Trailer Hits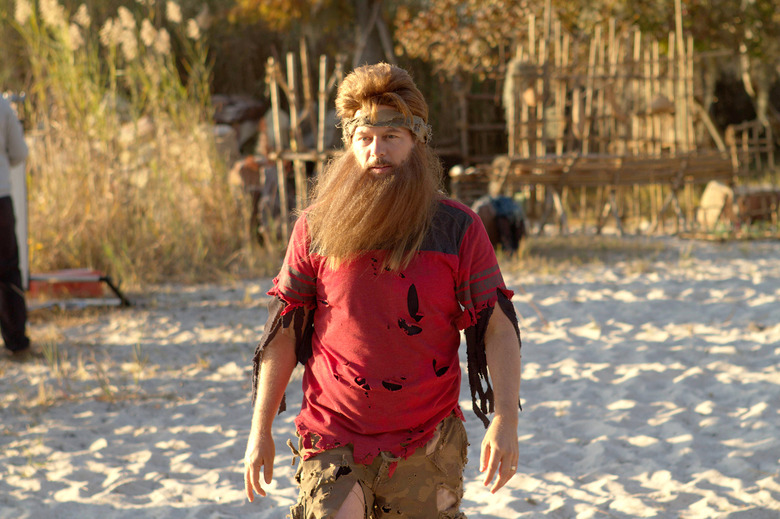 Update from Editor Peter Sciretta: Sony has released a new Joe Dirt 2: Beautiful Loser trailer for their direct-to-Crackle movie sequel. Watch it now embedded after the jump.
Joe Dirt 2 Trailer #2
Angie Han's original story from April 14th 2015 follows:
Credit where it's due: Joe Dirt may not be a cinematic masterpiece, but apparently it's got enough staying power to inspire a sequel 14 years later. Today we have the first trailer for Joe Dirt 2: Beautiful Loser, which features the return of David Spade as the titular "white trash hero."
Joe Dirt 2 Trailer
Like the movie named after him, Joe Dirt just "keeps on keepin' on," Spade tells EW. "He's married now and doing his best, but things don't all go perfectly for him, as usual. Like he says in the movie, when he gets a setback, 'I just keep getting stupider.'"
The sequel finds the humble hero in extraordinary circumstances. After he's transported to the recent past, he goes on a journey to get back to his family and friends in the present.
And speaking of reunited with loved ones, Spade adds that Joe Dirt 2 came about because the people wanted it to:
I've always liked the movie a lot. But I also go by feedback from people I see or [what they write] on Twitter and Instagram. Besides Tommy Boy, this is the most talked-about movie for me. After 10 years of people still asking about a sequel, we finally found a good way to do it.... Joe is a fun character to play. I'm stoked for everyone to see it.
So if you're thrilled Joe Dirt 2 is happening, cheers to you; if not, you only have yourself and your fellow moviegoers to blame. Joe Dirt 2 premieres on Crackle July 16.
In this sequel to the 2001 cult favorite, David Spade ("Rules of Engagement") returns as the mullet-wearing, rock and roll loving, down on his luck white-trash-hero who embarks on another epic journey, this time through the recent past, the heartland of America – and his own mind – to get back to his loved ones. Joe Dirt is back with a vengeance, and a mop. David Spade reprises his role alongside Oscar winner Christopher Walken (WEDDING CRASHERS), Brittany Daniel ("The Game"), Dennis Miller, Adam Beach (FLAGS OF OUR FATHERS). Patrick Warburton ("Rules of Engagement"), Mark McGrath (SHARKNADO 2), Charlotte McKinney ("Dancing with the Stars") and Kevin Farley also star in the sequel.