Watch A New 'San Andreas' Clip As 4DX Gears Up For The Disaster Movie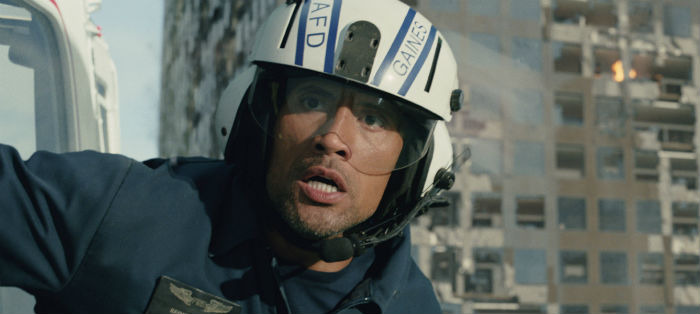 Last summer, /Film checked out the first 4DX screen in the United States. 4DX is a theater that shows 3D movies, but also incorporates physical experiences to make the audience member feel like they're experiencing the film in a new way. We concluded it was an interesting idea, but the first movie we saw – the long, boring Transformers: Age of Extinction – might not have been the best film for the format. We thought something that was shorter, and a bit more directly tied to physical movement, would be better. Something like San Andreas.
Well, San Andreas opens next month and 4DX is launching some new in-theater effects – snow, rain and warm air – just in time for the summer movie season. Below, read more about the new 4DX effects and see a clip from San Andreas, which stars Dwayne Johnson.
First up, here's the new clip from San Andreas, which opens May 29. Via MTV.
Now imagine that clip, but in 4Dx. It'll happen in a few weeks and by then, the company will have added warm air, snow and rain to its already-impressive list of 4DX effects - motion, water, fog, wind, air, lightning, bubbles, ticklers, scents and vibration. According to Variety, 4DX will debut this upgrade at CinemaCon in Las Vegas next week.
You'd have to lock me in jail to stop me from going to see San Andreas in 4DX when it opens. I almost wish Warner Bros. did all their early screenings in the format. If the movie is even half as good as it should be – and hopefully a manageable length because 4DX can be exhausting – it's going to be one of summer's best theatrical experiences.
Have you tried 4DX? Can you think of a better upcoming movie for the format than San Andreas?
San Andreas opens May 29. It's directed by Brad Peyton and stars Dwayne Johnson, Carla Gugino and Alexandra Daddario. For more on 4DX, click here.