Cary Fukunaga Directing 'The Alienist' TV Series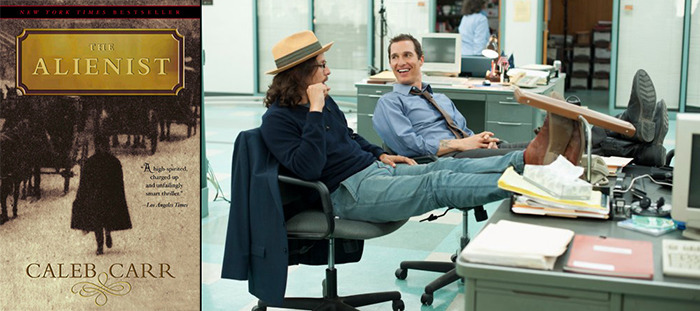 The director of True Detective is taking on another full TV series — this time a period thriller set in New York City. The Caleb Carr novel The Alienist will be adapted for television, with True Detective and Beasts of No Nation director Cary Fukunaga (above, with Matthew McConaughey, who is not attached to this series) in the director's chair. He and Eric Roth will exec produce, with Hossein Amini (Drive) writing the pilot script and also serving as exec producer. The language of the announcement makes it sound like Fukunaga will direct the entire Alienist TV series, rather than just the pilot.
The Wrap has the press release, with info that Paramount Television and Anonymous Content LLP are producing the show.
Set in the tenements and mansions of Gilded Age New York City, Caleb Carr's 1994 novel The Alienist tells the story of Dr. Laszlo Kreizler who, with the help of newspaper reporter John Moore and police commissioner Theodore Roosevelt, uses the emerging discipline of psychology to track down one of New York City's first serial killers.
Paramount Television President Amy Powell said,
THE ALIENIST is a fascinating and distinctive, fast-paced psychological thriller that is wonderfully evocative of the unrivaled Gilded Age of New York City. Cary Fukunaga's unique vision and ability to render compelling, distinctive and superbly atmospheric direction is the perfect voice for this television series.  We are thrilled to have not only Cary's expert direction, but also the creativity, imagination and storytelling abilities of the supremely talented Eric Roth and Hossein Amini.
This all sounds great — the only problem being that doing this series means it will be longer before Fukunaga gets to his adaptation of Stephen King's novel It, which he's still attached to direct at Warner Bros. (The press release for this series even mentions that Fukunaga is still working on the King adaptation, so that's good news, at least.)