Truman Capote's 'In Cold Blood' Being Adapted For Television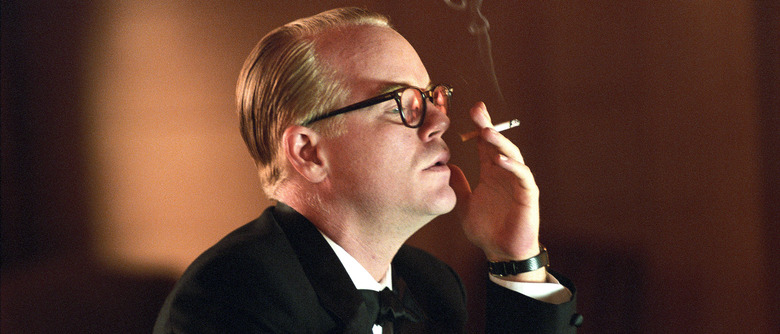 Like Full House and Coach before it, Truman Capote's In Cold Blood is also getting resurrected for the small screen. The Weinstein Co. has just picked up the rights to the true-crime masterpiece, with the intention of adapting it into an event miniseries.
Gary Oldman and Douglas Urbanski will produce, while Kevin Hood (Becoming Jane) will write the script. Get all the details on the In Cold Blood TV series after the jump.
The Weinstein Co. made the announcement this week. "Truman Capote's In Cold Blood has been riveting audiences since it first hit the literary scene almost 50 years ago, and it continues to have that same thrilling, timeless appeal today," said president/COO David Glasser in a statement.
No casting or network has been announced for In Cold Blood. However, the project should fit neatly with the crime and true-crime works currently populating the TV landscape, like HBO's True Detective and The Jinx.
In Cold Blood was first published in 1965 as a four-part series in the New Yorker. All four articles were then collected and published as a single book in 1966. It centers on the 1959 murders of the Clutters, a farm family living in Kansas, at the hands of paroled ex-cons Perry Smith and Dick Hickock. This week marks the 50th anniversary of Smith and Hickock's executions.
Capote's book was adapted to film in 1967, with Richard Brooks directing and Robert Blake, Scott Wilson, and John Forsythe starring. In 1996, it was adapted again into a two-part TV miniseries with director Robert Kaplan and stars Eric Roberts, Anthony Edwards, and Sam Neill.
The story behind Capote's book has received almost as much attention as the book itself. There have been two movies detailing the author's research for the story: 2005's Capote, which won Philip Seymour Hoffman the Best Actor Oscar, and 2006's Infamous, starring Toby Jones.