First 'Vacation' Reboot Photos Reveal The Griswolds And Walley World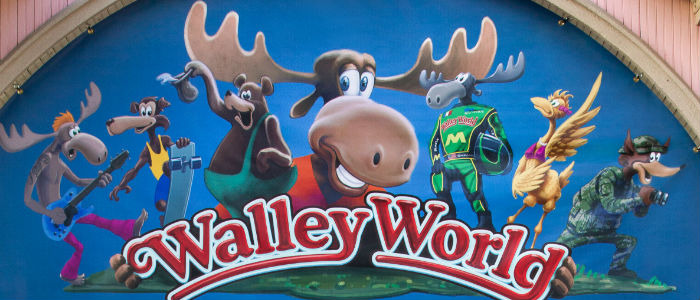 Walley World is officially open in the first two images from the new Vacation movie. The film, which is out July 31, is both a sequel to and a reboot of the original franchise as Chevy Chase and Beverly D'Angelo reprise their roles as the Griswolds and Ed Helms plays their son, Rusty. Now grown, Rusty wants to take his own family (including wife Christina Applegate) on the Walley World vacation he never got as a child. He tries, but as you can imagine, it probably isn't going to go so smoothly.
Or is it? As the moose out front probably told you, in the first official photos, you not only see the full Griswold family you get a look at Walley World. A Walley World that's apparently open this time around. See the new Vacation movie photos below.
Both these photos come courtesy of Warner Bros. Click on each to see it in high resolution.
New Vacation Movie Photos
Also, we'd be remiss if we didn't mention the most crucial member of the family in that photo: The green station wagon. It seems this Vacation movie is really going for the nostalgic references, as well as the modern laughs. Hopefully we'll see a trailer soon.
Vacation is out July 31. It's written and directed by Jonathan Goldstein and John Francis Daley (Horrible Bosses, The Incredible Burt Wondersone) and stars Ed Helms, Christina Applegate, Leslie Mann, Beverly D'Angelo, Skyler Gisondo, Steele Stebbins, Chris Hemsworth and Chevy Chase. Here's the official plot description:
The next generation of Griswolds is at it again—and on the road for another ill-fated adventure. Following in his father's footsteps and hoping for some much-needed family bonding, a grown-up Rusty Griswold (Ed Helms) surprises his wife, Debbie (Christina Applegate), and their two sons with a cross-country trip back to America's "favorite family fun park," Walley World.