'Spider-Man' Reboot Will Be About Peter Parker, Won't Be An Origin Story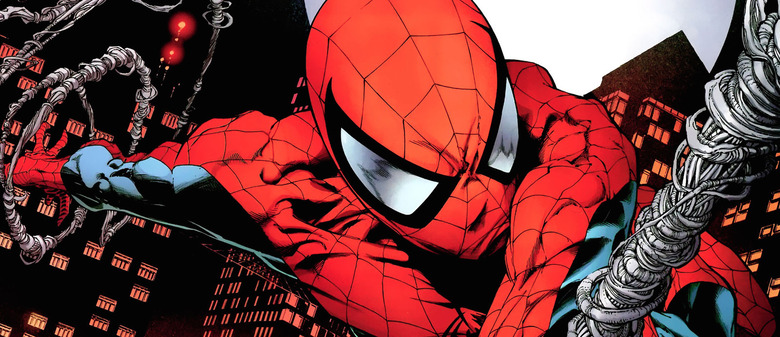 Sony's plans to reboot the Spider-Man franchise are coming into clearer focus. According to new reports, the new film will center on a teenaged Peter Parker — not Miles Morales or another character as some have speculated.
What will be different this time around, though, is we won't be starting with an origin story. At this point, even Marvel Studios figures there's no need to rehash the same old tale. Read Kevin Feige's comments about the Spider-Man reboot Peter Parker after the jump. 
Feige confirmed the identity and age range of the next Spider-Man in a chat with Collider. "In terms of the age of an actor we'll eventually to cast, I don't know. In terms of the age of what we believe Peter Parker is, I'd say 15-16 is right," he said. Of course, we'd all speculated that this is the case. But hearing it definitively from Feige's mouth should put any and all speculation to bed.
Both previous big-screen iterations of Spider-Man, played by Tobey Maguire and Andrew Garfield, started out in high school but graduated within a film or two. In contrast, the next Spider-Man will stay in high school for a longer period. Feige explained the appeal of a younger Spider-Man:
We want to play with Spider-Man in the high school years because frankly there've been five Spider-Man films and the amazing thing about it is, even though there've been five Spider-Man films, there are so many things from the comics that haven't been done yet. Not just characters or villains or supporting characters, but sides to his character. The most obvious being the 'young, doesn't quite fit in' kid before his powers, and then the fella that puts on a mask and swings around and fights bad guys and doesn't shut up, which is something we want to play with and we're excited about. [...]
[S]ome of my favorite Spider-Man arcs and Spider-Man stories, he's in high school for a lot of it. We want to explore that. That also makes him very, very different from any of our other characters in the MCU, which is something else we want to explore: how unique he is when now put against all these other characters.
Also setting this Spider-Man apart is the fact that we won't be starting with his origin story. Feige told Crave Online:
In Spider-Man's very specific case, where there have been two retellings of that origin in the last whatever it's been – [thirteen] years – for us we are going to take it for granted that people know that, and the specifics.
In fact, Feige revealed, Spider-Man already exists in the MCU:
There is a young kid [already] running around New York City in a homemade version of the Spider-Man costume in the MCU. You just don't know it yet.
Oh, and about that costume:
We've already designed the costume, which is different than any of the ones that have come before. And yet ours is classic Spidey, as I think you'll see.
While Miles Morales fans will no doubt be disappointed to hear that Marvel and Sony are going back to Peter Parker, the rest of this sounds like great news. Marc Webb's Spider-Man films suffered for coming so quickly on the heels of Sam Raimi's Spider-Man films. It all felt too familiar, even with Webb's valiant attempts to spin a new subplot about Peter's parents.
Casting a younger Peter Parker should go a long way toward differentiating this Spider-Man from the earlier Spider-Men. Maguire was already 27 by the time his first Spider-Man movie came out; Garfield was 29. The character may have been in high school, but he didn't really read young.
A teenaged Peter Parker would also inject some much-needed youth into the MCU. Most of the franchise's marquee stars are in their early 30s, and will be in their mid to late 30s by the time their contracts are up. A younger Spider-Man could attract younger moviegoers without alienating older ones.
There's no word on who might get the coveted role. But it shouldn't be too much longer before we get an official announcement. The new Spidey is expected to make his debut in Captain America: Civil War, due out May 6, 2016, before launching his own solo film on July 28, 2017.