J.K. Rowling Answers That 'Harry Potter 8' Question Again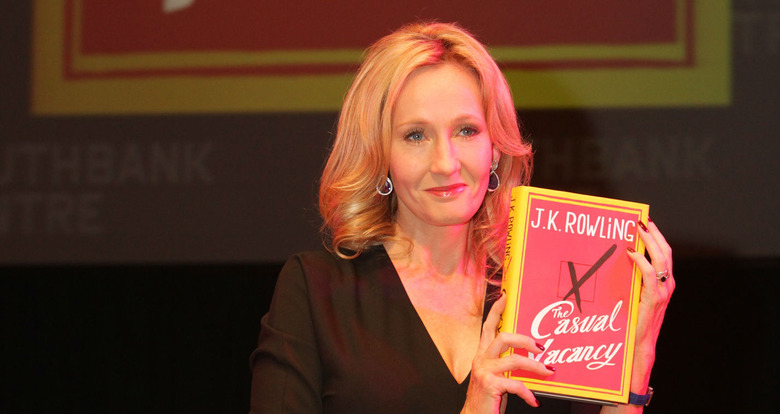 J.K. Rowling will never say she definitely won't write a new Harry Potter book. But, more or less, she won't. In an interview with The Today Show, Rowling was once again posed the question about whether or not she's prepping a new Harry Potter book. She said, "No," but explained a bit more than that. She feels the story of Harry Potter was pretty well wrapped up with book seven. She'll never definitively close the door because it's her world, but she's pretty sure she's done.
Read the exact JK Rowling Harry Potter 8 quotes and watch the video below.
Rowling was interviewed on The Today Show.
JK Rowling Harry Potter 8 Talk
Visit NBCNews.com for breaking news, world news, and news about the economy
Here's what she said when asked if she's thinking about Harry Potter 8.
No. But even as I answer that, I know that someone's cutting this on YouTube to make it as though I just gave you hope....I'm afraid I haven't been writing the next Harry Potter.
Interviewer Matt Lauer pushed a bit and Rowling clarified.
I have always said never say nev.... well, not never say never. I've always said I'm not going to say I definitely won't because I don't see why I should say that. You know, it's my world, and I might choose to step back into it. And in a way, I am stepping back into it.
That's a reference to her screenplay to the movie Fantastic Beasts and Where to Find Them, which is set in Potter's world, but won't have those characters. She feels those characters were properly wrapped up:
I'm stepping back into that world, writing the script for 'Fantastic Beasts and Where to Find Them.' That door is always opened to me. But I think Harry Potter 8, as in what happened next to Harry, Ron and Hermione—I don't think that's going to happen.
If Harper Lee can release a sequel to To Kill A Mockingbird decades after that book was released, who is to say Rowling doesn't do the same way down the road. But expectations would be so high, I think she's glad to be done with Harry Potter.
And if not Potter, Rowling thinks she will possibly create a new character or something:
I definitely will write for children again, 'cause I love writing for kids," she added. "So that will definitely happen, and that will sit comfortably alongside this work [with Lumos]. And maybe I'll get to read that new work to some of these children.