See Corey Stoll In Costume As Yellowjacket In 'Ant-Man'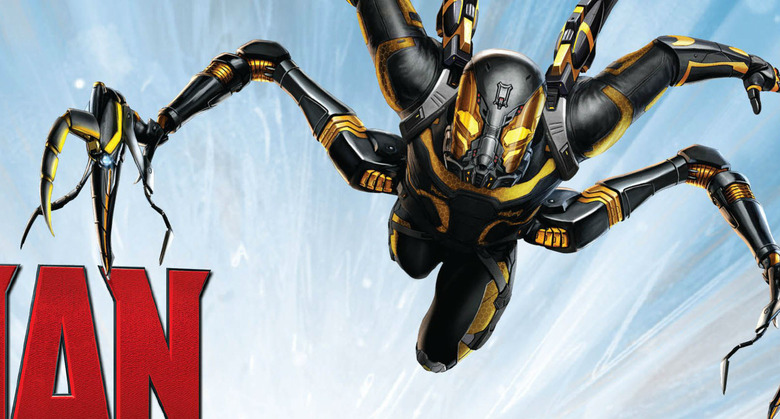 Marvel's promotional efforts have almost entirely been oriented around the Avengers so far this year, but with Age of Ultron hitting screens soon, Marvel will be opening up the vault on Ant-Man. We've seen one trailer for the July release, and a handful of stills. Now we've got a shot of Corey Stoll's alter-ego, Yellowjacket, in full costume and action pose. Granted, you won't recognize him as Stoll because of the helmeted costume. In fact, due to the way this scene was shot, it might be an entirely CG character seen here. Regardless, see Yellowjacket in Ant-Man, below.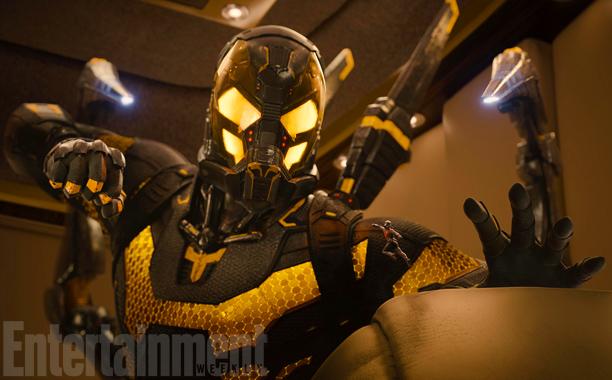 EW has the image. Note the teeny-tiny appearance of Ant-Man near Yellowjacket's left shoulder.
The site also has some accompanying info. This fight between Ant-Man (Paul Rudd) and Yellowjacket was shot with both actors working separately and wearing motion capture suits — so the suited-up version of both will be entirely CG, at least in some sequences.
And there's this, from director Peyton Reed:
Hank Pym's Ant-Man suit doesn't have a single weapon, whereas Yellowjacket is armed with plasma cannons. ... [But] Ant-Man is very fast when he's small. Also, when he shrinks, he increases his density, so he's got increased strength.
Ant-Man opens on July 17. The film also stars Paul Rudd, Evangeline Lilly, Bobby Cannavale, Michael Peña, Abby Ryder Fortson, Judy Greer, David Dastmalchian, Wood Harris, John Slattery, Gregg Turkington and T.I.
Ant-Man follows con-man Scott Lang (Paul Rudd) who, armed with the astonishing ability to shrink in scale but increase in strength, must embrace his inner-hero and help his mentor, Dr. Hank Pym, protect the secret behind his spectacular Ant-Man suit from a new generation of towering threats. Against seemingly insurmountable obstacles, Pym and Lang must plan and pull off a heist that will save the world.