First Look: 'Lego Dimensions' Blends Franchises Like 'Back To The Future,' 'Batman' And 'Lord Of The Rings' [Updated]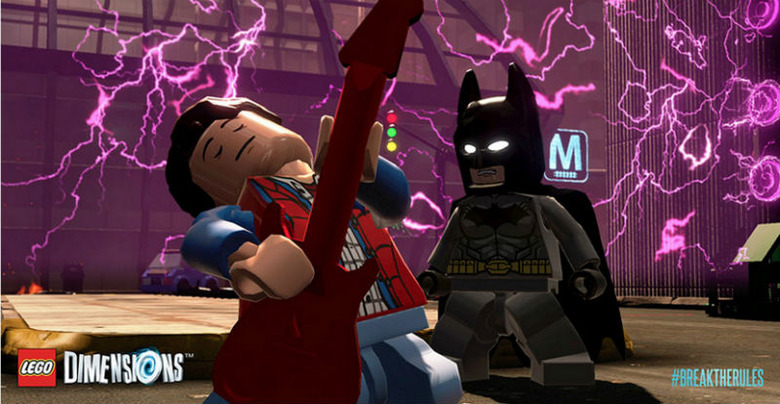 Update From Editor Peter Sciretta: LEGO has revealed images for their LEGO Dimensions expansion packs. Check out a gallery of images, after the jump now. Germain Lussier's original story from April 9th 2015 follows:
The video game market is some competitive, everyone is always looking for something different. Disney found that when they released Disney Infinity, a game that changed as you bought miniature collectible figures that integrated with the game. Nintendo did something similar with their Amiibo figured and now Lego is getting into the mix. They just announced a new game called Lego Dimensions, which will use special Lego mini figures to create franchise busting scenarios. Among the properties that will be included are Back to the Future, Batman, The Lego Movie, Lord of the Rings, DC Comics, Ninjago, and The Wizard of Oz. Watch a trailer and read more below.
Here's the trailer for Lego Dimensions.
And the Extended version:
And here are a few images, including a "Level Pack" for Back to the Future
LEGO Dimensions Expansion Packs
The following images come thanks to gizmodo:
And here's the official press release with all the info. Will you be picking up this one?
Warner Bros. Interactive Entertainment, TT Games and The LEGO Group today announced LEGO® Dimensions, an all-new entertainment experience that breaks the rules of traditional gaming to merge physical LEGO brick building with interactive console gameplay in a manner only imaginable in the world of LEGO games. Launching September 27, 2015, the game will fuse many fan-favorite universes together, including DC Comics, The Lord of the Rings, The LEGO Movie, The Wizard of Oz, LEGO Ninjago, Back to the Future, and many more still to be announced.
LEGO Dimensions, developed by TT Games and published by Warner Bros. Interactive Entertainment, will be available for Xbox One, the all-in one games and entertainment system from Microsoft and the Xbox 360 games and entertainment system from Microsoft, PlayStation®4 and PlayStation®3 computer entertainment systems and the Wii U™ system from Nintendo.
For the first time in any LEGO videogame, characters from iconic entertainment franchises join forces and battle in worlds outside of their own. In addition to the game, the LEGO Dimensions Starter Pack will include the LEGO Toy Pad, which allows players to transport special LEGO minifigures and other LEGO objects into the game, bricks to build the LEGO Gateway, three LEGO Minifigures, including LEGO Batman™ from DC Comics, LEGO Gandalf from The Lord of the Rings and Wyldstyle from The LEGO Movie, plus the LEGO Batmobile™.
"When kids play with LEGO bricks, they build beyond the singular brands, intermixing all of their favorite characters and universes, and we have come up with a way for players to experience that in games," said Jon Burton, Founder and Creative Director, TT Games. "Now for the first time in a videogame, LEGO fans can play in the virtual world and in the real world – combining everything without restrictions. Imagine putting LEGO Gollum from The Lord of the Rings behind the wheel of the LEGO DeLorean Time Machine in New Ninjago City – the creative play is endless."
"Building on TT Games' track record for exceptionally popular, engaging games, LEGO Dimensions expands our LEGO videogame franchise with a breakthrough, immersive interactive entertainment experience that will redefine the toys to life games category," said Jeff Junge, Senior Vice President, LEGO Franchise and TT Games, Warner Bros. Entertainment.  "LEGO Dimensions will bring fans innovative and joyful gameplay with an amazing mash-up of huge brands in both the physical and digital worlds."
"LEGO Dimensions is unlike anything that we have ever done. It further extends the LEGO play experience into the digital world with all of the characters, humor and action of LEGO videogames now combined with the fun of LEGO minifigure and model building," said Niels Jørgensen, Vice President, Digital Games for the LEGO Group. "We are thrilled to expand our partnership with TT Games to explore ways in which physical and digital LEGO play can merge in meaningful ways for children."
In addition to the three minifigure heroes used to start the experience, LEGO Dimensions will allow gamers to customize their experience with additional expansion packs.  Highly collectible Level Packs, Team Packs and Fun Packs will provide new buildable characters, vehicles, tools and gadgets, as well as compelling game content with new mission-based levels and unique in-game abilities.  All expansion packs will feature well-known properties and provide gamers the opportunity to use everything interchangeably, anywhere throughout the game – with no limitations.
A small sample of packs available in 2015 include the Back to the Future Level Pack with a LEGO Marty McFly minifigure, a LEGO Ninjago Team Pack with Kai and Cole minifigures, three Ninjago Fun Packs with Jay, Nya and Zane minifigures, two DC Comics Fun Packs with Wonder Woman and Cyborg minifigures, three The Lord of the Rings Fun Packs with LEGO Gollum, LEGO Gimli and LEGO Legolas minifigures, four The LEGO Movie Fun packs with Emmet, Bad Cop, Benny and Unikitty characters, and a The Wizard of Oz Fun Pack with a LEGO Wicked Witch of the West minifigure.  Additional packs to round out the 2015 assortment will be announced in the months leading to launch.  Further waves of expansion packs will be released regularly following the launch of the game and into 2016.
LEGO Dimensions not only offers a bridge between digital and physical LEGO play, but also introduces a digital system of play with great long-term value for LEGO gaming.  One LEGO Toy Pad, LEGO Gateway and the videogame found in the initial Starter Pack will offer endless opportunities to customize a player's experience for years to come.  Future expansion pack purchases will continue to work with the Starter Pack, even in the fall of next year.  No compatibility chart necessary.