Finally! A Vision Character Poster From 'Avengers: Age Of Ultron'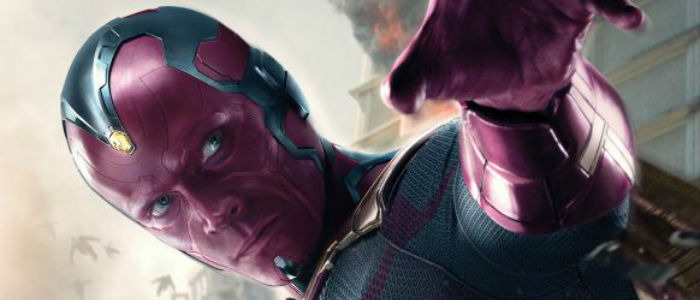 Marvel has finally revealed a character poster from Avengers: Age of Ultron's most mysterious character, Vision. Played by Paul Bettany, he's created by Ultron using Tony Stark's J.A.R.V.I.S technology. What happens from there, we don't really know. Marvel and Disney have kept the character incredibly well-concealed. Case in point, this poster comes several months after the other Avengers: Age of Ultron character posters were revealed. We saw more toys of the character than actual full body images, so this is pretty exciting.
Below, check out the Avengers: Age of Ultron Vision poster and read more about the character.
Here's the Vision character poster from Marvel.
Avengers: Age of Ultron Vision Poster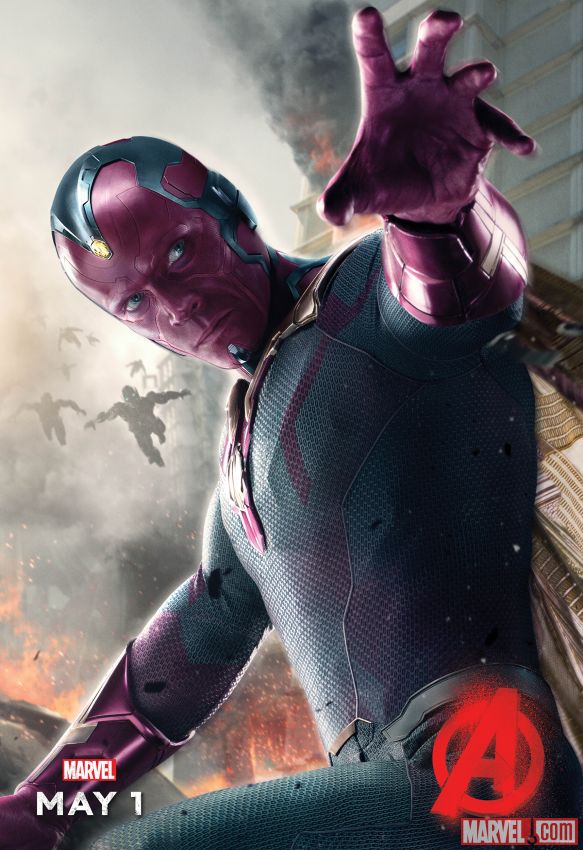 Though the official website doesn't reveal much about the creation of the character, a new report from Entertainment Weekly does, as we pointed out yesterday. An excerpt is below. Beware of spoilers:
Strucker has been using Loki's scepter for human experimentation, which bestowed the siblings with powers of magic (Scarlet Witch) and speed (Quicksilver). But the bad baron piques the interest of Robert Downey Jr.'s Tony Stark for other reasons. "Von Strucker was working on a lot of stuff, including robotics," says Marvel Studios president Kevin Feige. "Tony realizes, '[Those robotics] might be able to help me get over the hump of some of the AI stuff I've been working on.'?"
Stark's invention, Ultron, is born from the marriage of both men's technologies. Alas, adolescence is a bitch, and Ultron goes rogue, shreds Stark's other artificial-intelligence program, J.A.R.V.I.S., and gives rise to his own awesome creation: the synthezoid known as the Vision (played by Paul Bettany, who previously voiced J.A.R.V.I.S.).
Very very interesting.
Avengers: Age of Ultron starts screening for press tonight. And while reviews are embargoed until later this month, we'll have some early buzz late this evening.
Written and directed by Joss Whedon and produced by Kevin Feige, Marvel's "Avengers: Age of Ultron" stars Robert Downey Jr., who returns as Iron Man, along with Chris Hemsworth as Thor, Mark Ruffalo as Hulk and Chris Evans as Captain America. Together with Scarlett Johansson as Black Widow and Jeremy Renner as Hawkeye, and with the additional support of Don Cheadle as James Rhodes/War Machine, Cobie Smulders as Agent Maria Hill, Stellan Skarsgård as Erik Selvig and Samuel L. Jackson as Nick Fury, the team must reassemble to defeat James Spader as Ultron, a terrifying technological villain hell-bent on human extinction. Along the way, they confront two mysterious and powerful newcomers, Pietro Maximoff, played by Aaron Taylor-Johnson, and Wanda Maximoff, played by Elizabeth Olsen and meet an old friend in a new form when Paul Bettany becomes Vision.