Disney Developing A New Live-Action 'Pinocchio'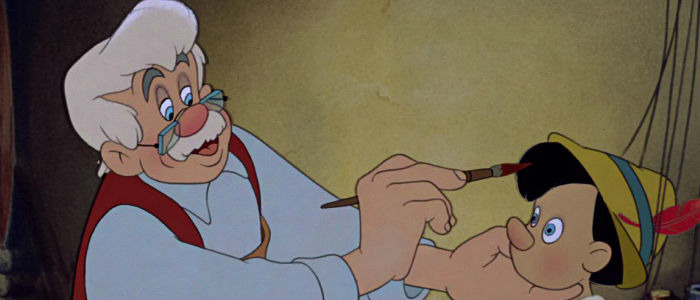 Alice in Wonderland truly did send Disney down the rabbit hole. The billion-dollar success of that live-action adaptation quickly got the studio scrambling for live-action remakes of its classic animated films. Maleficent was a massive hit, Cinderella is still raking in the dough, The Jungle Book is in production, Beauty and the Beast is getting ready, and several others like The Little Mermaid, Dumbo and Mulan are all in the works, too. That's not even a comprehensive list.
Now, yet another classic Disney film will make the transition from animation to real life. The company has hired writer Peter Hedges (About a Boy, The Odd Life Of Timothy Green) to write a live-action film inspired by Pinocchio.
Deadline broke the news of the new live-action Pinocchio. According to their report, it won't be a direct adaptation of the classic 1940 film, but likely closer to the original 1883 version by Carlo Collodi. That's a darker version of the tale of a boy made of wood who desperately wants to be real.
Over the past few years, Pinocchio has had several different films in development. A stop-motion version with Guillremo del Toro attached was delayed but might be back in the works according to Deadline. A version that had Ben Stiller, Tim Burton and Robert Downey Jr. all attached at certain points also seems dead.
Whether or not this film comes before or after the similar films Disney has in development will likely be tied directly to Hedges. If he turns in a script the studio loves, it could happen as quickly as Jon Favreau's The Jungle Book did. Or it could remain in development, like other rumored movies we'd heard of such as the Cruella De Vil movie or Sofia Coppola's The Little Mermaid. Disney basically knows that audiences love revisiting their favorite films in new ways and they've found a formula to do it. They only need one or two to work and they're set for a few years.
What do you think about a new, live action Pinocchio? Will it be more Disney or more Roberto Benigni?