Three Chinese Companies Pushing 'Need For Speed' Sequel Forward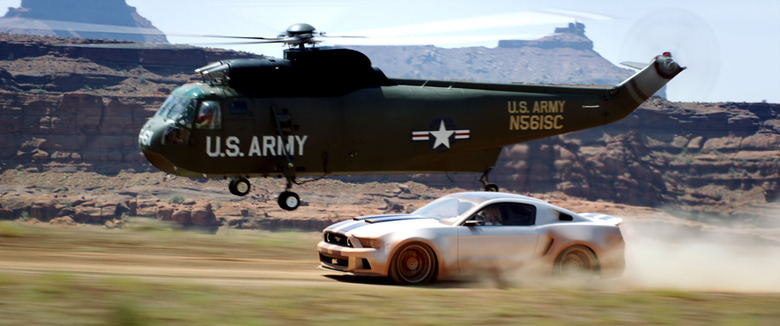 Many people thought Need For Speed was one of the worst films of 2014. I was not one of those people. Sure the story was paper thin, as were the characters, but the passion it showed for its cars, practical stunts and intense action won me over. Though that formula stalled in the U.S., where the $70 million film only grossed $43.6 million, overseas it took in $160 million which likely put the film in the black.
Over a year has passed since the film's release and there hasn't been word one about a sequel. Then Furious 7 grossed nearly $400 million in its first weekend worldwide. Now three companies in China – where the film grossed $65 million - are teaming up to help co-finance a Need for Speed sequel, Need for Speed 2.
The Wrap broke the news of the unexpected Need for Speed sequel. China Movie Channel, Jiaflix and 1905 Pictures are teaming up with Electronic Arts – who owns the rights – to finance the sequel. No director, actors or writer are attached but they're expected to make those deals in the coming weeks. The aim is to start filming, largely in China with a major focus on the country, by the end of the year. Here's a quote from Yin Cao, the chairman of China Movie Channel:
We are excited to work with EA, one of the world's most recognized creative companies. We are also delighted that much of 'Need for Speed 2' would be filmed in China, and we believe it will include much more Chinese talent and elements. This venture is another great endeavor to bridge the cultures between China and the West through films. We look forward to cooperating with excellent films and filmmakers to thrill and entertain movie lovers internationally with more outstanding films with Chinese labels.
I'd expect it'll take a lot for Aaron Paul, Michael Keaton, Dominic Cooper and Imogen Poots to return to the film, but never say never. What I find most interesting about this news is it's a very strong indicator of the way Hollywood works these days. Foreign investors, in a country where a US bomb soared, spearhead a sequel that US audience probably won't care about. But it might do well in their country. In China, a Need for Speed sequel is as sure a thing as Fast 8. In the US, it's nowhere near that.
If you want a peak into the mind of someone who actually enjoyed the first Need for Speed, read my review here. I stand by the fun, frivolous film and I'll be the only person in the theater on opening night for Need for Speed 2.