Warner Bros. Turning 'Five Nights At Freddy's' Game Series Into A Film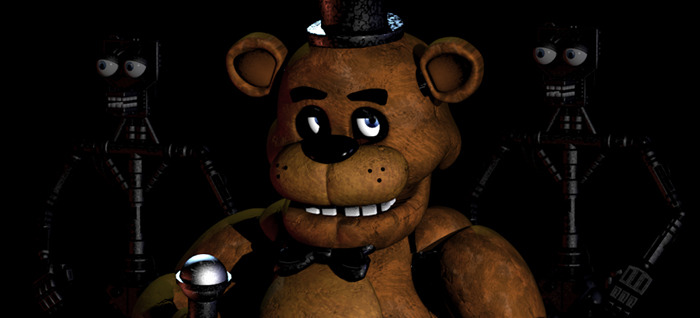 Mobile gamers have probably either played or heard of the Five Nights at Freddy's game series, if only because they've been scoring good placement on app stores. The games are essentially survival horror, with the player cast as a security guard who must survive a work week doing night shifts in a twisted version of a Chuck E Cheese or Showbiz Pizza Place joint, dealing with animatronic animals who are prone to killing security guards.
Now the games created by Scott Cawthon are being turned into a film. The Five Nights at Freddy's movie is coming via Roy Lee of Vertigo Entertainment, with Seth Grahame-Smith and David Katzenberg also set as producers for the Warner Bros. project.
THR announces the info, but there are no writers set for the film just yet so we don't know exactly what is planned. But the concept is easy to grasp, and Seth Grahame-Smith says,
The story really lends itself to being a movie and it taps into a largely unexplored niche of horror that a lot of people will be able to relate to.
I can certainly relate to something that sounds like a horror combo of Westworld, Night at the Museum and the Rock-afire Explosion.
There are three games in the point-and-click horror series so far; the third just arrived in March of this year. The games feature a pretty unsettling sense of art design (check out the bear above) and a backstory which involves some really nasty actions related to the animatronic animals. Player actions are very limited as the player is confined to one room, and able to monitor the movements of the animals only via security camera feeds. Making things worse, there's a finite amount of electricity to use, and when the power runs out, it's basically game over.
The film could turn out to be something somewhat unusual — family horror — and simply having Warner Bros. as the studio developing a film like this is unusual enough to be interesting.