'Spectre' Star Christoph Waltz Denies Those Blofeld Rumors, Again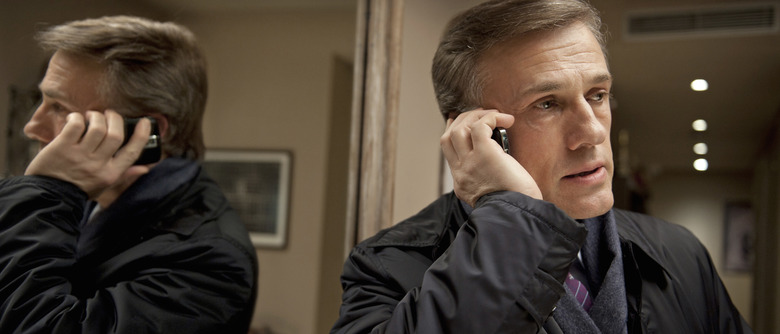 Just days after we heard Christoph Waltz was joining Spectre, rumors started swirling that he'd play classic Bond villain Blofeld. Of course, he quickly denied those stories, and now he's denying them again. According to him, those claims are "absolutely untrue."
But... are they? The same story that originated the Blofeld rumor also stated that Waltz's character would be named (initially, at least) Franz Oberhauser. And that part has been 100% confirmed. More on the Christoph Waltz Blofeld rumors after the jump. 
Speaking with British GQ, Waltz shot down speculation about his playing Blofeld. "That is absolutely untrue," he said. "That rumor started on the Internet, and the Internet is a pest. The name of my character is Franz Oberhauser."
However, Franz Oberhauser and Ernst Stavro Blofeld aren't mutually exclusive. The Daily Mail rumor from last fall was that Franz was the "son of the late Hans Oberhauser, a ski instructor who acted as a father figure to Bond." Oh, and that Franz would later be revealed to be Blofeld, a la John Harrison / Khan in Star Trek Into Darkness.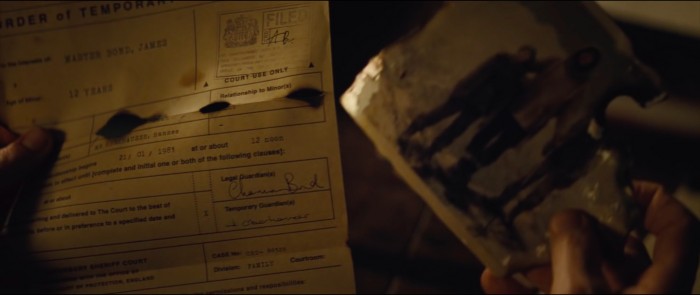 Since then, the part about Waltz playing Franz has been verified. The Hans Oberhauser stuff hasn't, but it might explain the mysterious photograph Bond looks at in the first Spectre trailer, which shows two children standing in the snow with an adult. In the same sequence (above), there's also what looks like a document of guardianship for Bond, with another Oberhauser's name on it. Together, those items suggest confirmation of that early report. So it really doesn't seem like a stretch to think that the part about Blofeld might be right, too.
And we probably don't have to remind you that movie stars lie about this stuff all the time. To return to the Star Trek comparison, I'm sure no one's forgotten all of those stringent denials that Benedict Cumberbatch's character was really Khan in disguise. And within the Bond franchise, who remembers Naomie Harris insisting she wasn't playing Moneypenny?
We shouldn't be too harsh on Waltz, though. If Franz is a smokescreen for Blofeld, Waltz surely isn't allowed to say. Anyway, while Waltz sounds pretty excited about his role, he admits he wasn't sure at first:
I did [hesitate], yes. I always hesitate... You ask yourself, hang on: what James Bond are we talking about? The thing about Spectre is that it is not the work of hack writers. It does not have a hack director. The actors are not hams. The action sequences in Mexico are extravagant to say the least. The scenes in Austria are traditional Bond action in the snow. These films with Daniel Craig have shifted the tone. They don't depend on a set formula that forces actors simply to go through the motions.
He later continues:
A James Bond film can be artistically fulfilling. Absolutely it can. It can be complex and it can be interesting. I consider Bond movies to be an extension of popular theatre, a kind of modern mythology.
Find out whether or not Christoph Waltz is a liar-liar-pants-on-fire when Spectre opens November 6.