LOL: Stan Lee Gets His Own 1:6 Collectible Action Figure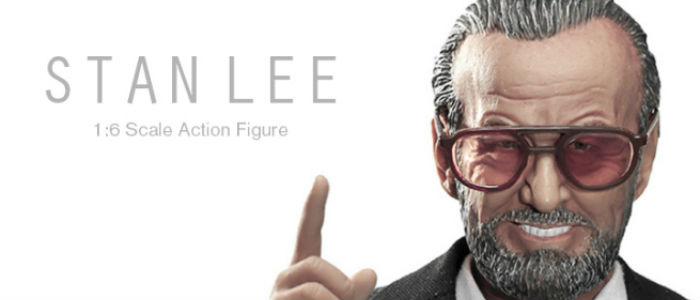 On a pretty regular basis, we see photos of high-end collectible figures. Most of the time, they are a 1:6 scale, and based on superhero characters. Many of those superheroes were created by Stan Lee. Well, add all those facts up and it's about damn time this is happening. Stan Lee is getting his own 1:6 scale collectible figure by Das Toyz. And it's just too funny. Check out images, video and find out more about the Stan Lee action figure below.
The Das Toyz Stan Lee figure is available at Go Hero. Thanks to ComicBook for the heads up. First, some images.
Stan Lee Action Figure
Then a video:
And finally, the official description, which doesn't mention it costs $250.
An American icon, Stan Lee is a comic book writer since the 1940's.  He is also an editor, publisher, media Producer, television host, actor, and former president and chairman of Marvel Comics.  Collaborating with several artists, Stan Lee co-created Spider Man, The Hulk, The Fantastic Four, X- Men, Iron Man and Thor.
In addition, he headed the first major successful challenge to the industry's censorship organization, the Comic Code Authority and forced it to reform its policies.
Stan Lee also led the expansion of Marvel Comics from a small division of a publishing house to a large multimedia corporation making it what it is today.
Stan Lee was inducted into the comic book industry's Will Eisner Award Hall of Fame in 1994 and the Jack Kirby Hall of fame in 1995. He also received a National Medal of Arts in 2008.
Das Toyz is proud to present the "First-Ever 1:6 Figure" of the one and only Stan Lee. Officially Authorized Likeness of Stan Lee. Licensed and approved by Stan Lee
Phicen Articulated 1:6 Body
Outfit:
Black Long Sleeve Sweater
Accessories:
2 x interchangeable heads
IMPORTANT NOTES:
These are LIMITED TO 1000 UNITES WORLDWIDE
Expected Ship Date – 3rd Qtr 2015
International Shipping is estimated at $50