'23 Jump Street' Will Make Those Fake Sequels Canon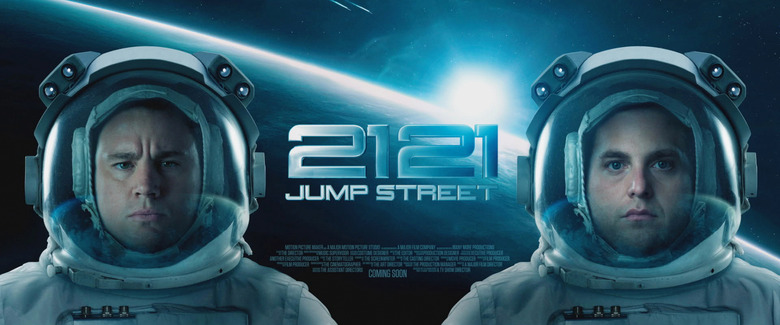 22 Jump Street saved its best joke for last. The sequel to a comedic reboot no one thought they wanted in the first place, went out with an extended riff on all the Jump Street sequels to come. Like 23 Jump Street: Medical School, 24 Jump Street: Foreign Exchange Students, and so on, all the way up to the space-set 2121 Jump Street.
But when 22 Jump Street made enough to earn a real 23 Jump Street, there was no real reason to believe the franchise would stick with the "plan" laid out in the 22 end credits. And it isn't — because Phil Lord and Chris Miller have found a different way to incorporate all of those sequels. Hit the jump for more on the Jump Street fake sequels.
Topless Robot reports from WonderCon. During a panel for their Fox comedy Last Man on Earth, Lord and Miller revealed that they have big plans for the ever-crazier sequels teased at the end of 22 Jump Street. "We've found a way that we love that makes those imagined sequels canonical and yet does something that we haven't told you about yet," said Lord. "The sequels are canon."
Lord and Miller are set to produce the next chapter in the Jump Street saga, but haven't been confirmed to direct. Rodney Rothman is writing the script, and Jonah Hill and Channing Tatum are expected to reprise their roles as Schmidt and Jenko, respectively.
Though we have heard some tantalizing rumors about what the next movie might entail, plot secrets are being kept under wraps for now. However, Lord did have this tiny clue to offer in an earlier interview:
[Rothman] had a really outrageous idea for what to do, and how we could take our scorched-earth sequel policy from the end of 22 Jump Street and do something that hadn't been explored in those 22 sequels and simultaneously tell the next chapter in the story.
Hmm. 23 Jump Street: Film School, perhaps? It'd give Schmidt and Jenko a reason to make an entire series of films about two undercover cops, and the series does love self-referential humor. And FWIW, film school is the one type of academic institution that's not referenced in the end-credits sequence.
Revisit the entire 22 Jump Street montage here, and let us know your guesses about the next movie in the comments.