Phil Lord And Chris Miller Working On Story For 'The Flash' [UPDATED]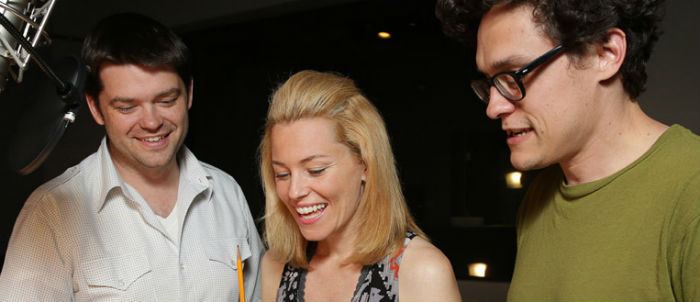 UPDATE: On April 6, we posted this story about Phil Lord and Chris Miller possibly doing The Flash.Now there's an update that they are indeed working on the film, but just at the story stage for now. Whether or not they'll direct is still up in the air. Original story follows with the update after the jump.
When Warner Bros. announced their plans for an expanded DC Cinematic Universe, it was almost unbelievable. We're not only going to see Batman fight Superman, but two Justice League movies and solo films for Wonder Woman, The Flash, Green Lantern, Shazam and others? It sounded nuts. Since then, news on that front has been relatively slow but things are in motion. We know Michelle MacLaren is directing Wonder Woman, we've heard Ezra Miller talk about The Flash and heard numerous actors throw their hat in the ring for Green Lantern.
The latest rumor, however, might be the most interesting yet. Rumor has is Warner Bros. is pursuing their Lego Movie directors, Phil Lord and Chris Miller, to direct The Flash. But, at the same time, Sony is apparently courting them for Ghostbusters. Read more below.
UPDATE: Deadline confirmed the story originally broken below. Lord and Miller have boarded The Flash to work on a story treatment. At this stage, that's the extent of their involvement. They have not yet decided on their next directorial gig.  Original story below.
The rumor came from El Mayimbe and Meet The Movie Press, the video podcast featuring Jeff Sneider of The Wrap. You can watch the full video at this link, but this is the quote in question, at 20:25:
We've heard a bit of a tug of war going on between Warner Bros. and Sony, which would like the same two directors for one of its big franchise movies... If Warner Bros. wanted them for The Flash, and Sony wanted them for a Ghostbusters movie, which would Lord and Miller do?
We're labeling this a rumor because though Sneider said this on his podcast, he hasn't run it on The Wrap, so it's just more or less chatter at this point. Nothing is set in stone, it's just a discussion.
Several years ago, Sony was courting Lord and Miller to do a third Ghostbusters but at that time they passed on it. The film then went to Paul Feig. Sony loves the duo, though, and with a second Ghostbusters movie in now development – a Channing Tatum film that likely lost its directors when the Russos signed onto to Avengers 3 and 4 – Lord and Miller might be a good fit. They certainly know and love Tatum. Also, things have changed a lot since their original talks. Ghostbusters now has a little more freedom and a lot less pressure.
DC, however, is similarly massive. Fans have been salivating at the chance to see Lord and Miller do a big Hollywood action movie and The Flash could be perfect. Last we'd heard though, they were developing their own film. Would they be willing to put that on the back burner for one of these franchises? It seems like a possibility.
We'll have to wait and see what, if any, of this rumor is true. But, for now, which would you rather see Lord and Miller direct?