Steven Moffat Wants A 'Doctor Who' / 'Sherlock' Crossover, But Don't Hold Your Breath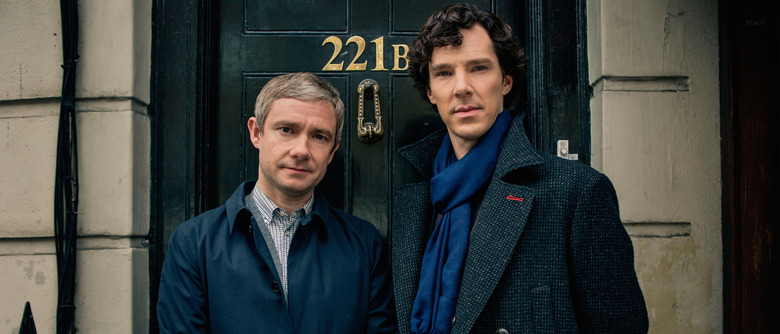 Doctor Who and Sherlock have quite a few things in common. Both of them are internationally popular British dramas with a huge geek fanbase. Both of them center around special but awkward heroes with more "normal" companions in tow. And both of them are run by Steven Moffat. So naturally, fans of both have long wondered if there might be any chance of the two properties crossing paths.
Well, there's good news and bad news on that front. In an interview, Moffat reveals he's all for a Doctor Who Sherlock crossover. It's everyone else — Benedict Cumberbatch, Martin Freeman, and the producers — that's against it. Read Moffat's Doctor Who Sherlock crossover comments after the jump. 
Moffat addressed the question of a possible Doctor Who Sherlock crossover in a chat with EW:
My instinct — and this is probably from years of doing Doctor Who — is I'm just such a tart. If people want to, we should give it to them. But I got persuaded by [co-creator Mark Gatiss], Benedict, [executive producer Sue Vertue] and Martin saying, "Look, it will never be as good as they think it's going to be," and then I say, "Yes, but we'll just bang it out and make it as good." "Yeah, but you can't give everybody everything they want all the time." I'm in the camp of giving them everything they want. But I think they're sane and right and I'm just a tart.
The fact that Moffat wants to do a crossover is somewhat encouraging (if you're into the idea), but given the strong resistance from everyone else, it doesn't seem likely to happen anytime soon. Besides, Moffat pointed out last year, the "grand old egotists" wouldn't necessarily play nice together. "They'd just both go off in opposite corners and sulk that there was someone cleverer than them," he theorized.
Should Moffat ever manage to convince the others, it's not hard to imagine Sherlock Holmes showing up on Doctor Who. The sci-fi show hops to a different time and place with each episode, so they could conceivably do an episode in which the Doctor finds himself involved in a mystery in modern-day London.
It's a bit harder to figure out how it might work the other way, as Sherlock is more grounded in reality. Still, there is that upcoming Christmas standalone special sending Sherlock and Watson to the Victorian era. If Moffat needs a good holiday gift to give in 2016, I'm sure lots of fans would welcome a one-off that sends Sherlock on a collision course with the Doctor.
For now, the closest thing we have to an official Doctor Who Sherlock crossover is this political ad for the U.K.'s Labour Party, featuring Sherlock star Martin Freeman and a brief voiceover from former Doctor Who star David Tennant. It's all very earnest and serious — not exactly what you would call fan service.