Clint Mansell Scoring 'High-Rise'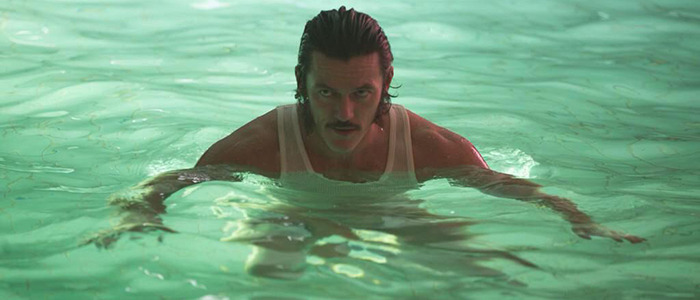 Everything we've heard about High-Rise, the new film from Ben Wheatley, which adapts the novel by J.G. Ballard, has me dying to see this one. Tom Hiddleston and Luke Evans (above, as seen in the film) lead the cast in a story about class warfare in a high-rise apartment block. From what we've heard from people who saw sales footage in Berlin, this one might be totally insane. Now the film has a very promising musical component, as Clint Mansell has been announced as the creator of the High-Rise score.
Film Music Reporter had the news, and Mansell responded with a brief statement on Twitter:
Blown away by the love shown to my involvement with @mr_wheatley & #HighRise It means a lot to me and I'll do my best to not fuck it up!

— Clint Mansell (@iamclintmansell) April 2, 2015
High-Rise also features Sienna Miller, Jeremy Irons, James Purefoy, Elisabeth Moss, Reece Shearsmith, Peter Ferdinando and Dan Renton Skinner. Wheatley's frequent collaborator (and wife) Amy Jump (Kill List, A Field in England) scripted; Jeremy Thomas (The Last Emperor, Only Lovers Left Alive, The Dreamers) is producing for Recorded Picture Company.High-Rise will probably premiere at Cannes, and with any luck we'll see it in theaters later this year.
When a class war erupts inside a luxurious apartment block, modern elevators become violent battlegrounds and cocktail parties degenerate into marauding attacks on "enemy" floors. In this visionary tale, human society slips into violent reverse as once-peaceful residents, driven by primal urges, re-create a world ruled by the laws of the jungle.