Sony Classics Picks Up Hank Williams Biopic Starring Tom Hiddleston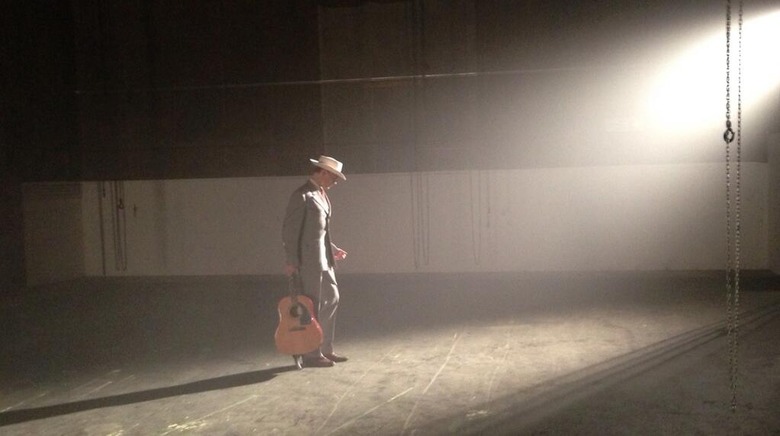 Tom Hiddleston's casting as country legend Hank Williams attracted some skepticism when it was first announced, but Sony Pictures Classics, for one, feels pretty good about it. The company has just acquired worldwide rights to I Saw the Light, written and directed by Marc Abraham. More on the I Saw the Light Sony Classics deal after the jump. THR reported on the deal. In addition to Hiddleston, I Saw the Light stars Elizabeth Olsen, Bradley Whitford, David Krumholtz, and Cherry Jones. Sony Pictures Classics hasn't yet set a release date, but I Saw the Light looks likely to get an awards-season run this fall or winter. The combination of a high-profile star and a high-profile subject is bound to attract some critical attention.
Based on the biography by Colin Escott, the musical biopic chronicles Williams' meteoric rise to fame in the 1940s and early 1950s, the increasing personal and health issues that came with it, and his untimely death at age 29. While his career was brief, it was highly influential, and he's considered one of the most iconic musicians in American history.
To answer the question that surrounds any musical biopic, yes, the filmmakers were able to get the rights to Williams' catalog, including "I'm So Lonesome I Could Cry," "Move It On Over," and "Your Cheatin' Heart." And to answer the other question that surrounds any musical biopic, yes, Hiddleston can sing.
The actor is very aware of the pressures of portraying such a beloved figure. "Hank's life has a tragic arc, but in simple truth, he was a genius: a star that burned twice as bright and lived half as long," he said last year. "It's a huge role for me and a huge responsibility. I'm going to give it everything I've got."
The film was produced by Brett Ratner's RatPac Entertainment, along with Abraham, Aaron L. Gilbert, and G. Marq Roswell. In a statement, Ratner professed to being "thrilled" with the deal. "This film is a perfect fit, especially given [the Sony Pictures Classics co-presidents'] passion for country music, and we could not be in better hands."