'Survivor' Trailer: Pierce Brosnan Is A Mad Bomber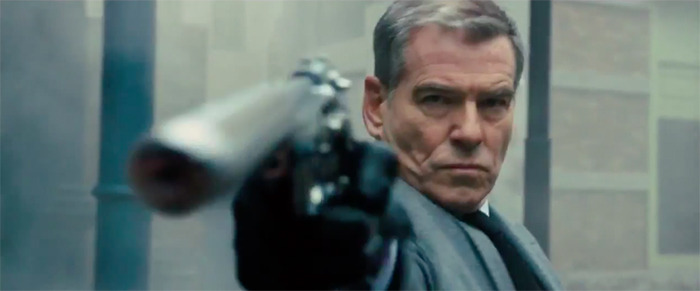 Former Wachowski collaborator James McTeigue has a new film called Survivor, in which Pierce Brosnan, as a killer nicknamed "the Watchmaker," helps frame a government officer played by Milla Jovovich. The thriller looks like it is set between the action churn of the typical Millennium Entertainment film and the tone and action of the Bourne series. But it's a slight change of pace for Jovovich, and may give Brosnan a chance to be entertainingly evil. Check out the Survivor trailer below.
Survivor opens in theaters and on demand May 29. Trailer via Yahoo. The film is directed by James McTeigue, and also features Dylan McDermott, Angela Bassett, and Robert Forster.
After being mysteriously framed for a terrorist bombing, a Foreign Service Officer (Milla Jovovich) must evade government capture and death by a ruthless assassin (Pierce Brosnan) in order to stop the real perpetrators' master—and much deadlier—plan. SURVIVOR is directed by James McTeigue and also stars Dylan McDermott, Angela Bassett and Robert Forster.