Bob Odenkirk And David Cross Doing New Sketch Comedy Show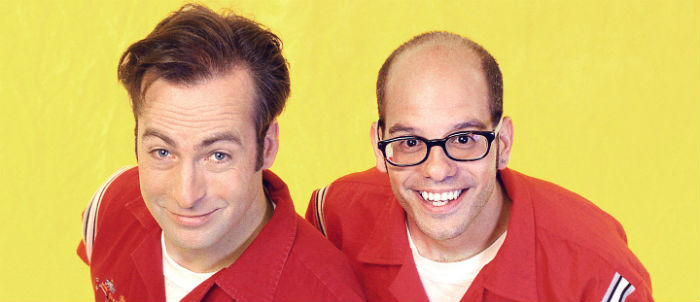 Before they were Saul Goodman and Tobias Funke, Bob Odenkirk and David Cross co-created one of the funniest shows ever. It was called Mr. Show (or, more fully, Mr. Show With Bob and David) and it ran four seasons on HBO, from 1995 to 1998. Mr. Show helped give the comedians a huge cult following and major pop culture cachet. Since then, each has gone off on their own, becoming very successful in different ways. Now they're coming back together.
Bob Odenkirk and David Cross have just sold a brand new sketch comedy series called With Bob and David to Netflix. It's just started production and will consist of four half hour episodes and a one hour "making of." There's more on this pseudo-Mr Show reunion below.
Deadline broke the news of the new show. As of now, Odenkirk and Cross are the only series regulars, but you can expect lots of their famous comedy friends to show up. Remember this image from December?
Eight men out... of the 1990s. Maybe something new coming from the Mr. Show gang in the new year? #MrShow pic.twitter.com/gBy8CQ49nv

— Paul F. Tompkins (@PFTompkins) December 31, 2014
It's almost certain Paul F. Tompkins and others were working on this new show. Here's how they described it to Deadline:
After being dishonorably discharged from the Navy SEAL, Bob and David are back serving our country the way they do best: making sketch comedy. Four half-hours of brand-new comedy featuring all new characters, all new scenes and, most importantly, all new wigs.
I think bringing a short, sketch comedy series like this to Netflix is interesting. It's basically like you're just getting a really long Mr Show reunion movie. Four half-hours and a one-hour special can easily be digested in one sitting, unlike most of the other shows that come to Netflix. I'm curious if this series length will be something people gravitate to, or if they'll put it off because it's a shorter series.
Are you going to check out With Bob and David when it hits Netflix?