'The Gift' Trailer: Joel Edgerton Is A Generous And Very Creepy Friend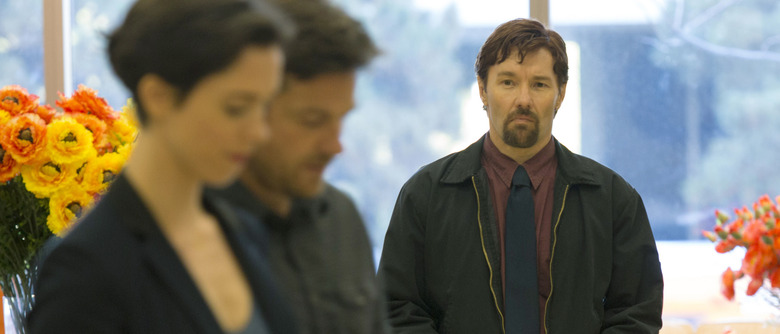 Reconnecting with an old friend sounds pretty nice, especially if said friend turns out to be a generous and thoughtful gift-giver. But in the first The Gift trailer, Simon (Jason Bateman) quickly realizes that his new old friend Gordo (Joel Edgerton) has a dark side — and that he could wind up exposing some of Simon's unsavory secrets, too.
Edgerton directed and Rebecca Hall also stars. Hit the jump to watch The Gift trailer, and also to see the incredibly unsettling message "Gordo" personally sent Peter ahead of the trailer debut. Our boss will probably want to sleep with one eye open tonight.
STX Entertainment premiered The Gift trailer on YouTube.
The trailer debut is spooky and all, but frankly it can't hold a candle to the very creepy (and very effective) marketing campaign which preceded it. Over the past day or so, @YourFriendGordo has been sending hyper-specific presents to certain journalists. Here's what Peter got:
Got a present in the mail from @YourFriendGordo but I have no idea who he is. Creepy. (viral marketing for #TheGift?) pic.twitter.com/swXtelZe8X

— /Film (@slashfilm) April 1, 2015
Seems innocuous enough until you realize he really did work at Computer City as a teenager, and that he now has a dog named Pixel.
Another friend of ours got a glass to replace one he broke in 2009:
Well, that's certainly one way to make a generically titled thriller stand out. Here's hoping the movie is even half as disturbing as the marketing campaign behind it.
The Gift opens July 31, 2015. It marks Edgerton's feature directing debut, though he has previously helmed some shorts.
Can you really go through life having never wronged anyone? Even if you are unaware of how, or when, and even who you may have wronged....chances are there is someone out there who won't ever forget it...or you.
Simon (Jason Bateman) and Robyn (Rebecca Hall) are a young married couple whose life is going just as planned until a chance encounter with an acquaintance from Simon's high school sends their world into a harrowing tailspin. Simon doesn't recognize Gordo (Joel Edgerton) at first, but after a seemingly coincidental series of encounters proves troubling, a horrifying secret from their past is uncovered after nearly 20 years. As Robyn learns the unsettling truth about what happened between Simon and Gordo, she starts to question: how well do we really know the people closest to us, and are past bygones ever really bygones?
From the producer of Whiplash and The Purge, Jason Blum, comes a chilling psychological thriller that marks the feature directorial debut of acclaimed actor and writer Joel Edgerton (The Great Gatsby, Zero Dark Thirty, Warrior).