Cool Stuff: Matt Taylor's 'Back To The Future 2' Posters From Mondo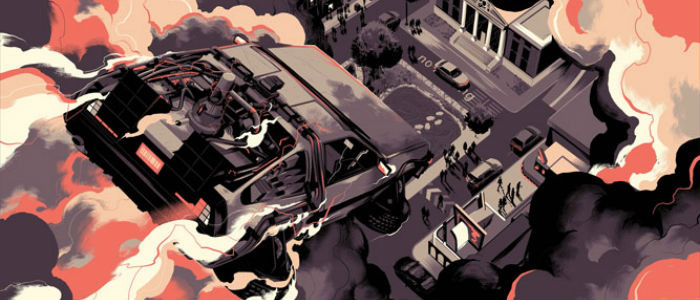 Mondo has already done two awesome Back to the Future poster trilogies and now it seems they're on their way to a trilogy of them. There was Phantom City Creative, Laurent Durieux and now Matt Taylor is adding a Back to the Future Part II poster onto his beautiful poster for part 1. It goes on sale Thursday April 2. See the full image of the latest Mondo Back to the Future poster below.
Here's the regular and variant editions of Matt Taylor's Back to the Future Part II
Mondo Back to the Future 2 by Matt Taylor
These are each 20 x 36 inch screenprints, in editions of 325 and 175 respectively. The regular costs $50 and variant $75. They'll both go on sale at a random time on April 2 via @MondoNews.
While I think the image is truly beautiful, the most interesting aspect is the logo in the top right corner. It's the first Mondo Back to the Future poster to use that official logo.
In the announcement, Taylor explained why he decided to follow up his Back to the Future series:
When I did the BTTF poster last year for Thought Bubble I was determined to try and create a poster that didn't feature the Delorean because - as I said at the time - I thought Laurent Durieux and Phantom City Creative had made the definitive DeLorean posters. But as it happened, I just couldn't let the opportunity pass to draw that iconic car, seeing as the Mondo guys were so good as to let me take a swing at the second movie. And anyway, everyone knows the flying DeLorean is so much cooler than the original.
We don't know if Taylor will do part three but, if you do one and two, it seems possible doesn't it?
What do you think of Matt Taylor's interpretation of Back to the Future Part II?
Here's part one by the way. It's sold out.