IMAX To Debut Laser Projection At 'Furious 7' Los Angeles Premiere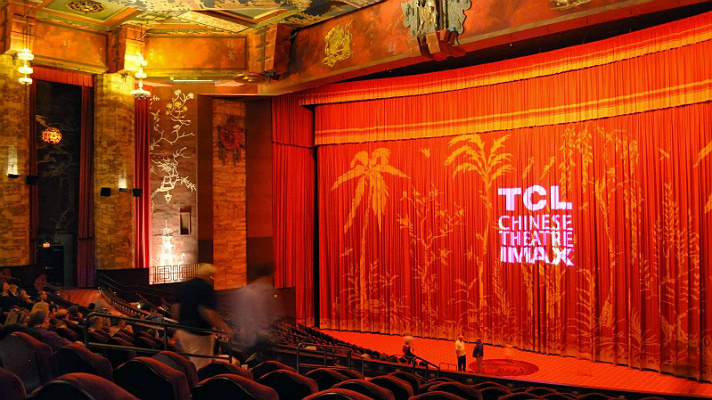 For several years, IMAX has been working on a revolutionary new laser projection system. Projection technology that blows away digital and film in terms of clarity and contrast. Well, out of nowhere that technology is now. Literally.
IMAX will publicly debut laser projection at Wednesday world premiere of Furious 7 at the TCL Chinese Theater in Los Angeles, California. It'll remain in the venue indefinitely. Read more about IMAX laser projection below.
The IMAX laser projection new came from an IMAX press release about Furious 7 being the widest IMAX release ever. It'll be screening on "more than 800 IMAX theatres, including approximately 445 international and 365 domestic IMAX locations."
But here's the real news:
Additionally, IMAX will be launching its revolutionary new laser projection system at the Furious 7 global premiere event to be held at the TCL Chinese Theatre IMAX in Los Angeles. This marks IMAX's U.S. debut of the new technology as well as the first film ever to receive a global premiere with laser projection. IMAX has undertaken a significant R&D investment to develop its next-generation projection and sound system, which incorporates the laser digital intellectual property IMAX exclusively licensed from Eastman Kodak and Barco's unique laser innovations. IMAX with laser represents a quantum leap forward in cinema technology – providing audiences with the sharpest, brightest, clearest and most vivid digital images ever, combined with a whole new level of immersive audio.
"Not only are we excited to be releasing 'Furious 7? globally in record-setting fashion, we are delighted to be partnering with Universal Pictures on the first-ever movie premiere event screened with laser," said Greg Foster, Senior Executive Vice President, IMAX Corp. and CEO of IMAX Entertainment. "As the most action-packed 'Fast and Furious' installment yet, 'Furious 7? deserves to be seen in the most awe-inspiring and intense way possible across IMAX screens worldwide."
So how much better is IMAX laser projection than film projection, digital projection or usual IMAX projection? We talked to Brian J. Bonnick, the Chief Technology Officer of IMAX in 2013, about it. Here's what he said then:
One of the most important thing a filmmaker is concerned about with projection is contrast. Film projectors can give you, on a good day, 3,500 and 4,000 to one contrast. This is the Achilles' heel of digital projectors as others in the marketplace right now are maybe 2,000. The IMAX one is around 2,600 or 2,800 on a good day, so we are a lot better, but we are not where we want to be. IMAX film is around 4,000. The IMAX laser system will get at least 6,000. The prototype system right now is running at 8-9,000 and the whole point is this is something that's important to the filmmaker. For the consumer, we will be able to give you an extended color gap. And again, we are the only company that uses dual projectors in both 2D and 3D modes, so we are getting more light on the screen, more pixels on the screen.
The laser projection at the TCL IMAX Chinese Theater will now be in there indefinitely, so any time you head to the theater, you'll be seeing this top of the line stuff.
IMAX is also debuting this Furious 7 bumper with the event.
We'll have more on IMAX laser projection in the coming weeks. Will you be checking it out?