Star Wars Bits: Ben Mendelsohn Talks 'Rogue One,' 'Battlefront' Trailer Release, Celebration Swag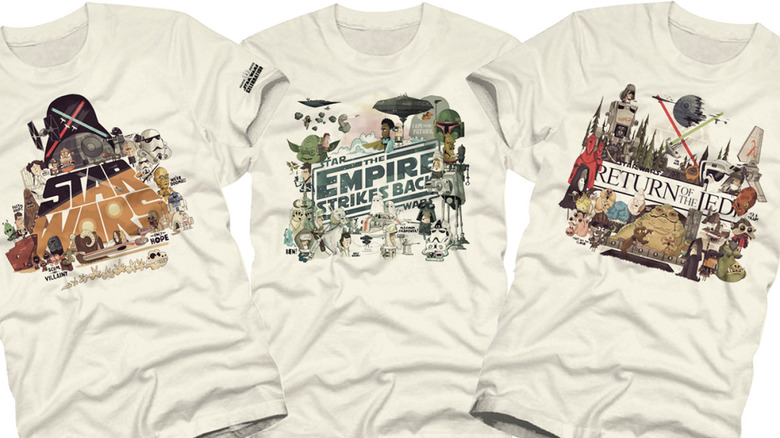 Star Wars Celebration is in the spotlight, but there's also movie and TV news in this edition of Star Wars Bits. Below, read about the following:
Rumored Rogue One star Ben Mendelsohn talks Star Wars fandom.
The Star Wars Battlefront trailer will debut at 10:30 a.m. PST April 17.
London fans can watch The Force Awakens Star Wars Celebration panel live.
Watch Oscar Isaac talk about how his uncle got an extra role in The Force Awakens.
Star Wars: The Clone Wars was nominated for 7 Daytime Emmy Awards.
See official, exclusive Star Wars Celebration apparel.
Actor Ben Mendelsohn won't confirm or deny if he's been cast in Star Wars: Rogue One but, he has. Entertainment Weekly was talking to the actor and he said the following about being cast:
I'm absolutely not sure about any of this at all. It sounds great, and certainly—Wouldn't that be nice?
He then answered some questions about his level of Star Wars fandom and it turns out he's actually a big fan. Here's a short excerpt, read more at the above link.
Enormous! I mean, enormous! I'm the kid who had the whole set of trading cards. Enormous! I mean, I was born in 1969. The first one comes out in what, '77? The first Star Wars film was an enormously important. I grew up right smack-bang in the sweet spot of all of those. It's true cinema magic.... It's hard to overstate what a big deal that initial trilogy was for me, so certainly any talk of anything, I'd be thrilled if they were thinking about stuff like that. I heard about all of this hoopla yesterday or something. Who knows? Certainly, that would be very exciting.
While there's certainly lot of excitement around upcoming Star Wars movie and TV news that'll happen at Star Wars Celebration, but video games are right up there too. At the top of the list is EA's Star Wars Battlefront, which will have its coming out party at the event. The EA site confirmed a panel will take place April 17 and that the trailer will debut online at 10:30 a.m. PST on that day. Also this tidbit:
But that is not all... All attendees will have a chance to see gameplay behind closed doors during the show at our official booth along with a few other activities starting that Friday.
This is kind of crazy. Apparently, Thursday April 16th's Star Wars Celebration panel about Star Wars: The Force Awakens will stream live in Leicester Square in London. This tweet went up Tuesday too, so it's probably not an April Fools Joke.
Watch the #TheForceAwakens panel LIVE from @SW_Celebration at the Empire, Leicester Square. Stay tuned for details... pic.twitter.com/KxrAD0Fufu

— Star Wars UK (@StarWarsUK) March 31, 2015
Oscar Isaac was on The Tonight Show to talk Ex Machina and told a story about his Uncle, the Star Wars fan, getting a role in The Force Awakens.
Star Wars: The Clone Wars isn't on the air anymore, but the final episodes that debuted on Netflix just got a little award season love. The show was nominated for seven Daytime Emmys in the following categories: Outstanding Special Class Animated Program, Outstanding Performer in an Animated Program (Mark Hamill as Darth Bane), Outstanding Writing in an Animated Program (Christian Taylor), Outstanding Directing in an Animated Program (Dave Filoni, Brian Kalin O'Connell, Danny Keller, Steward Lee), Outstanding Sound Mixing – Animation, Outstanding Sound Editing – Animation, Outstanding Music Direction and Composition (Kevin Kiner).
One of the busiest places at Star Wars Celebration is usually the Celebration Store. There, fans can buy limited edition, exclusive Star Wars merchandise. We haven't seen everything but the official Star Wars site uploaded almost 40 pieces of apparel that'll be available at the event. Here are just a few of the images: